Autodesk Vehicle Tracking 2017
Size:
216 MB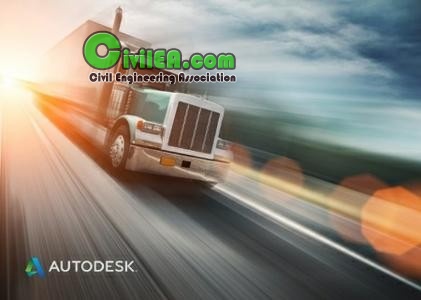 Autodesk Inc., a world leader in 3D design software for entertainment, natural resources, manufacturing, engineering, construction, and civil infrastructure, announced the release of Vehicle Tracking 2017, is a comprehensive transportation analysis and design solution for vehicle swept path analysis.
The software enables engineers, designers, and planners at government agencies and engineering consulting firms working on transportation or site design projects to predictably evaluate vehicle movements. In addition, you can draft and review intersections using analysis and simulation tools that are integrated as part of the total design process.
Integrate planning and design processes with analysis and simulation that works within a familiar AutoCAD environment
- Predictably evaluate the movements of steered vehicles, light rail vehicles, and aircraft, and design parking lots and intersections using analysis and simulation tools that are integrated with Autodesk software—including Autodesk AutoCAD, Autodesk AutoCAD Civil 3D, Autodesk AutoCAD Architecture, Autodesk AutoCAD Plant 3D, Autodesk AutoCAD Map 3D, and Autodesk AutoCAD® Utility Design.
- Connect the modeling and design processes to enable the reuse of preliminary design work in the detail design phase.
- More easily consider safety factors—such as sight lines based on standard design speeds—interactively during the design process.
Speed planning and design processes
- Use real-time operational analysis to optimize project performance in less time.
- Expedite the preliminary design phase with easy-to-use, real-time simulation and drag-and-drop tools.
- Minimize rework by creating vehicle paths that can be saved and referred to later in the process to help maintain up-to-date animations.
More quickly evaluate 3D models of alternatives in order to optimize designs
- Quickly and easily explore alternative design solutions with the production of multiple layout options that adapt automatically to the dynamic 3D model in Civil 3D.
- Evaluate safety and standards compliance and help meet permitting requirements for parking layout, refuse and emergency vehicle access, and loading bay access.
- Easily analyze vertical clearance, vertical grades, and crossfalls for vehicle access using 3D proposed surface models.

Code:
***************************************
Content of this section is hidden, You must be registered and activate your account to see this content. See this link to read how you can remove this limitation:

http://forum.civilea.com/thread-27464.html
***************************************

Code:
***************************************
Content of this section is hidden, You must be registered and activate your account to see this content. See this link to read how you can remove this limitation:

http://forum.civilea.com/thread-27464.html
***************************************

Code:
***************************************
Content of this section is hidden, You must be registered and activate your account to see this content. See this link to read how you can remove this limitation:

http://forum.civilea.com/thread-27464.html
***************************************

Code:
***************************************
Content of this section is hidden, You must be registered and activate your account to see this content. See this link to read how you can remove this limitation:

http://forum.civilea.com/thread-27464.html
***************************************
This post has been made by

CivilEA Post-Generator

V2.3.1