Autodesk Structural Bridge Design 2017
Size:
552 MB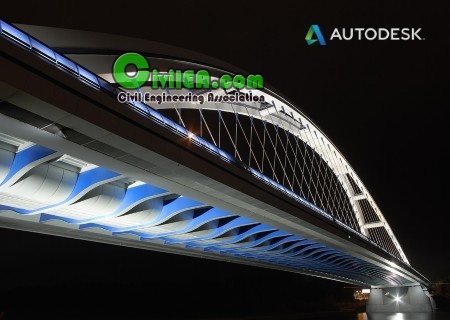 Autodesk Inc., a world leader in 3D design software for entertainment, natural resources, manufacturing, engineering, construction, and civil infrastructure, announced the release of Structural Bridge Design 2017. This software helps engineers achieve greater flexibility and efficiency in the design of small-to medium-span bridges integrating loading, analysis, and code checking processes whist providing an efficient workflow.
This single integrated software solution does not require valuable time importing, exporting or converting data instead it provides tools to help accelerate project completion.
Structural Bridge Design refines design options faster with automated updates in a define-analyse-code check loop whenever parameters change.
Engineers can additionally improve accuracy and reliability by reviewing code check requirements with detailed "hand" calculation-style design sheets that are created will full formulae and code referencing.
With Structural Bridge Design, users can deliver design reports faster using more accurate, reliable, consistent and verifiable data throughout the project lifecycle. These reports provide an understanding of engineering calculations involved to help maintain consistency and context throughout the project lifecycle.
To provide better understanding, the software creates side-by-side graphical displays of the data and results produced in the reports at all stages of analysis and design to offer further understanding of the results.
The design sections and bridge beams that are available within the software are based on a variety of international standards – including Eurocodes, AASHTO LRFD, British Standards as well Australian and New Zealand Standards. This allows users to create and develop their small-to-medium span bridges using required international standards before construction has commenced.
The functionality of Structural Bridge Design software can be simply broken down into three specific areas including:
- Section plan which deals with design on a section by section basis
- Girder design which works with the whole length of the girder
- Bridge Structure loading and analysis
Employing Autodesk Structural Bridge Design on your business's projects will allow you to save time and money by utilising the tools available within the software.

Code:
***************************************
Content of this section is hidden, You must be registered and activate your account to see this content. See this link to read how you can remove this limitation:

http://forum.civilea.com/thread-27464.html
***************************************


Code:
***************************************
Content of this section is hidden, You must be registered and activate your account to see this content. See this link to read how you can remove this limitation:

http://forum.civilea.com/thread-27464.html
***************************************