AutoDesk InfraWorks 360 2017.3 |
Size:
1.93 GB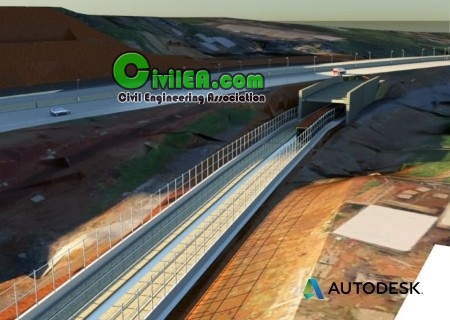 Autodesk Inc., a world leader in 3D design software for entertainment, natural resources, manufacturing, engineering, construction, and civil infrastructure, has released InfraWorks 360 2017.3, is Autodesk's BIM platform that enables parametric model-based planning and design of civil infrastructure in the context of the real-world.
This latest release of InfraWorks 360 delivers improved design to detailed engineering workflows along with enhanced interoperability with Civil 3D and Autodesk Revit. In addition, the latest release gives you the ability to design in an even richer, real-world context of your project's environment.
- Enhanced Interoperability.
In this latest release, you can now bring roundabout design models from InfraWorks 360 into Civil 3D. You can also take your bridge designs easily into Revit for more detailed design work. With improved interoperability between InfraWorks 360 and Civil 3D, and Revit, changes you make to your InfraWorks 360 model are reflected throughout the detailed design phase, enabling you to more easily test and optimize design alternatives quickly.
- Multi-modal Simulation.
If you're an urban or traffic planner, you realize how vital it is to any economy to have effective and efficient movement of people and products through urban and rural environments. In the latest InfraWorks 360, we've delivered a new, innovative multi-modal simulation capability that combines the power of an integrated geometric model with analysis functionality to help you study the impact of your designs to the movement of buses and trains; parking areas; taxis, ride sharing, autonomous vehicles; walking, cycling and other personal modes of travel. With it, you now have a tool that can help you design more attractive, economical and ecologically sustainable environments for your citizens.
- Better Design Context.
A compelling value of InfraWorks 360 is to enable you to plan and design projects in a real-world context of your project's surroundings. We've made improvement to Model Builder that facilitates even better design in-context – allowing you to quickly model more accurate designs within a real-world view earlier in the project lifecycle. Now users can overlay DWG files, in addition to raster images, over InfraWorks 360 models with full location, scale, rotation control and correlation tools; and, we've enhanced users' ability to take advantage of data rich sources like Autodesk ReCap, 2D DWG files, Raster Overlays and Open Street Map data.
- Detailed Engineering.
The latest release of InfraWorks 360 provides you with a number of improvements that enhance your detailed engineering workflows for transportation design including support for modeling merges, diverges and weaving lanes; new traffic simulation support for ramps and turn lanes, and enhanced editing for roundabouts and bridge girder sections. This release also introduces the Contextual Stack, enabling you to have access to and edit design data about specific assets you select such as roads, pipe network parts, bridge parts, among others – giving you greater detailed engineering-level control over your designs.
Autodesk helps people imagine, design and create a better world. Everyone—from design professionals, engineers and architects to digital artists, students and hobbyists—uses Autodesk software to unlock their creativity and solve important challenges.

Code:
***************************************
Content of this section is hidden, You must be registered and activate your account to see this content. See this link to read how you can remove this limitation:

http://forum.civilea.com/thread-27464.html
***************************************


Code:
***************************************
Content of this section is hidden, You must be registered and activate your account to see this content. See this link to read how you can remove this limitation:

http://forum.civilea.com/thread-27464.html
***************************************