Bentley CivilStorm V8i (SELECTSeries 4) 08.11.04.54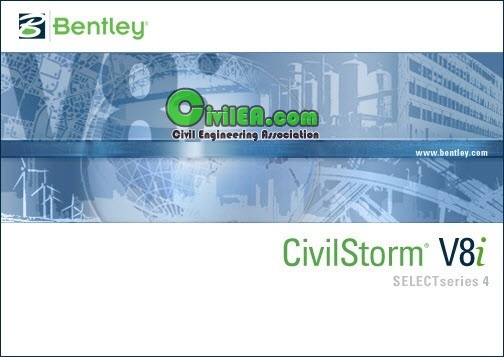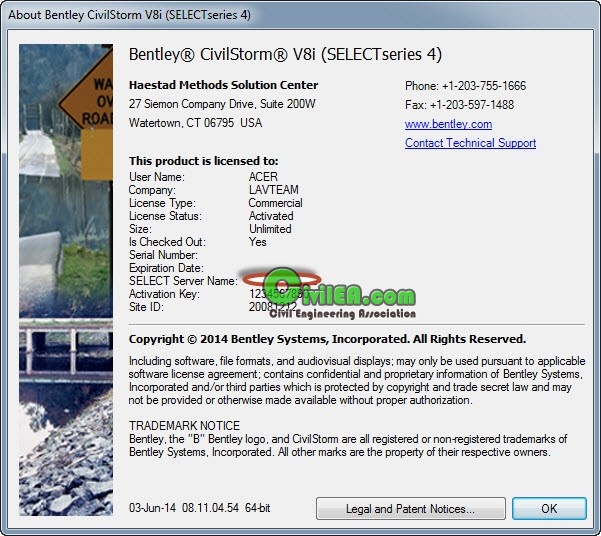 CivilStorm performs a full range of analysis necessary for verification of hydraulic capacity and demonstrating stormwater compliance in complex storm water handling systems. Its dynamic calculation engine handles capacity analysis, detention, looped systems and diversions. Choose the industry-standard EPA-SWMM engine or CivilStorm's implicit solution.Time saving model management tools such as Scenario Manager, FlexTables, and engineering libraries make CivilStorm both highly cost-effective and extremely flexible. CivilStorm is also fully compliant with US Federal Highway Administration (FHWA) Hydraulic Design Series No. 5 (HDS-5) standards.
Key new features in CivilStorm V8i (SELECTseries 4):
INTEROPERABILITY
Updated support for MicroStation: You can run CivilStorm from within the latest releases of MicroStation V8i (SELECTseries 3). A MicroStation license is required – if you don't have a MicroStation license, you can choose to run CivilStorm in stand-alone mode.Updated support for AutoCAD: You can run CivilStorm from within AutoCAD 2015 and 2014. An AutoCAD license is required – if you don't have an AutoCAD license, you can choose to run CivilStorm in stand-alone mode.Direct import of MX Drainage files: The import of MX Drainage files in CivilStorm has been improved, reducing the steps necessary to leverage MX Drainage data.Bentley Map Mobile i-model publishing: This tool publishes a CivilStorm model, including results, for use in Bentley Map Mobile, a free app that works on Android, iPad, and iPad mini tablets.
MODEL BUILDING AND MANAGEMENT
Elevation data assignment: CivilStorm can automatically assign elevation data to node elements, including manholes, using digital terrain models. The node elevation can be updated automatically when the element is moved.Downstream trace: CivilStorm enables the convenient trace and display of the surface water flow direction across any terrain.Redesigned conduit catalog: Conduits with the same section shape and materials are now grouped together in the conduit catalog, making it easier to view and edit them.
HYDRAULICS
Headwall and endwall elements: CivilStorm now supports culvert headwalls and endwalls, which can connect to open channels or closed conduits.Inlet-only hydraulic calculations: Users can now place inlets, check gutter and inlet carryover flows, and adjust the inlet positions as necessary, before designing the pipe network.Storage chambers as pond type: CivilStorm can now model underground storage chamber systems.Improvements to automated design: The automated design calculations for sanitary and storm sewers include a number of enhancements, such as: pipe wall thickness can be included when computing cover; drop structures can be used to minimize cover (previously drop structures only prevented a pipe from exceeding the maximum allowable slope); and a minimum drop depth can be specified for drop structures.
HYDROLOGY
PondMaker: CivilStorm's PondMaker is an easy step-by-step detention pond and outlet structure design tool.New hydrograph methods: Users can now choose to utilize the ILSAX or time-area hydrograph methods to compute runoff.New loss methods: CivilStorm now allows users to compute infiltration losses using 'initial loss and constant fraction' or 'initial loss and constant rate' methods.New time of concentration methods: CivilStorm now supports the following additional time of concentration calculations: Kinematic Wave equation, Friend's equation and Bransby-Williams equation.

Code:
***************************************
Content of this section is hidden, You must be registered and activate your account to see this content. See this link to read how you can remove this limitation:

http://forum.civilea.com/thread-27464.html
***************************************

Code:
***************************************
Content of this section is hidden, You must be registered and activate your account to see this content. See this link to read how you can remove this limitation:

http://forum.civilea.com/thread-27464.html
***************************************


Code:
***************************************
Content of this section is hidden, You must be registered and activate your account to see this content. See this link to read how you can remove this limitation:

http://forum.civilea.com/thread-27464.html
***************************************