Autodesk Inventor Professional 2016 SP1
Size:
5.38 GB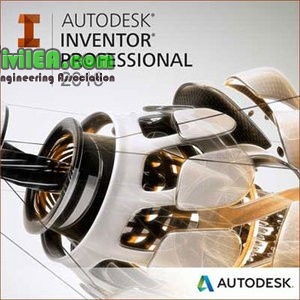 Autodesk Inventor - contains a full set of flexible tools for 3D- engineering design, analysis, production , creation of tooling , designing bespoke and exchange design data. Inventor helps to go beyond 3D to Digital Prototyping technology , based on a high accuracy 3D- model, which allows to design, visualization and analysis of products before , as will be made ​​the first sample . Digital Prototyping implemented in Inventor, makes it possible to improve the quality of products , reduce development costs and accelerate time to market.
Inventor® designed to help increase productivity for both new and longtime users who work in part assembly and drawing creation. Inventor 2015 has enhanced design productivity features that help you to communicate designs and share models broadly. Design better products faster with new tools that improve interoperability and collaboration throughout the modelling process.
Explore advanced 3D CAD features that include additional simulation, routed system, and new tooling capabilities. Inventor® Professional 2015 builds on Inventor to allow you to:
• Using the Autodesk solution for Digital Prototyping, quickly understand how your design will work in the real world with Integrated Motion Simulation, which uses the assembly constraints in your 3D model to identify rigid bodies, improve motion joints, and calculate behavior.
• Save time and reduce prototyping costs by testing a product's performance before it's built. Motion simulation and stress analysis tools help you find the best design solutions more quickly and easily.
• Increase the accuracy of design stress analyses with integrated Finite Element Analysis (FEA) that helps you quickly predict the performance of load-bearing frame models. Present the results using report generating tools that create graphics and animations from your analysis.
• Reduce file open times with Express Mode, a new way of working with large assemblies more efficiently.
• Simplify your workflow using a new process that defines the position of components and describes part motion in one quick step.

[align=left]

Code:
***************************************
Content of this section is hidden, You must be registered and activate your account to see this content. See this link to read how you can remove this limitation:

http://forum.civilea.com/thread-27464.html
***************************************

Code:
***************************************
Content of this section is hidden, You must be registered and activate your account to see this content. See this link to read how you can remove this limitation:

http://forum.civilea.com/thread-27464.html
***************************************

Code:
***************************************
Content of this section is hidden, You must be registered and activate your account to see this content. See this link to read how you can remove this limitation:

http://forum.civilea.com/thread-27464.html
***************************************

Code:
***************************************
Content of this section is hidden, You must be registered and activate your account to see this content. See this link to read how you can remove this limitation:

http://forum.civilea.com/thread-27464.html
***************************************
To engineers who, rather than blindly following the codes of practice, seek to apply the laws of nature.


......T.Y Lin