01-05-2013, 02:43 PM (This post was last modified: 01-05-2013, 03:10 PM by BennyP. Edit Reason: )
STAAD.Pro V8i SELECTseries 4 (20.07.09.21) - Trial Version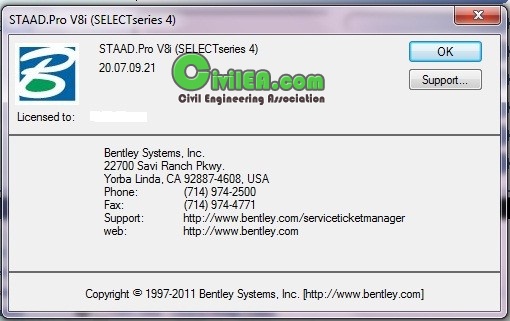 STAAD.Pro V8i SELECTseries 4 (20.07.09.21)

STAAD.Pro V8i SELECTseries 4 Patch Release:

In August this year, we released SELECTseries 4 of STAAD.Pro V8i. The
main enhancement included in this release was the introduction of the latest
AISC 360-10 steel design code. However, this did not include a few features
that were found to be required by many users that use the AISC code and has led
to production of a new patch release which is now available on the Bentley
SELECT servers. The key issues addressed include:-
1.Deflection Checks,
Enhanced over other AISC deflection checks in that a design will only perform
deflection checks on those load cases classified as SERVICABILITY.
2.Automatic profile selection.
3.Slenderness
Optional checks added with the MAIN and TMAIN parameters
4.Single angle section
Design about both principal and geometric axes.


***************************************
Content of this section is hidden, You must be registered and activate your account to see this content. See this link to read how you can remove this limitation:

http://forum.civilea.com/thread-27464.html
***************************************

***************************************
Content of this section is hidden, You must be registered and activate your account to see this content. See this link to read how you can remove this limitation:

http://forum.civilea.com/thread-27464.html
***************************************