STAAD.Pro V8i SELECTseries 4 (20.07.09.11) - Trial Version
info:
STAAD.Pro V8i SELECTseries 4 (20.07.09.11)
STAAD.Pro V8i SELECTseries 4 introduces the latest enhancements in the analysis and design engine. This latest version provides enhanced integration opportunities with the other structural applications using the ISM integration module of StrucLink. Additionally models can be exported to the specialist offshore application SACS using a new OpenSTAAD macro. A range of the most commonly used foundations designed using STAAD.Foundation are now supported with the STAAD.Pro license. Wind loading can be generated to ASCE 07-10. Seismic analysis can make use of a new 'mass' reference load case to reduce duplication of mass definitions. Loading options have been enhanced with the addition of a load combination generator to Eurocode 0 again using OpenSTAAD and automatic calculation of self-weight loading can be specified for a named group of Surface entities. Major enhancements to the design modules include, a new ASME NF 3000:2001 design code with options to set service levels in all the ASME NF codes. Additionally Eurocode 3 steel design updated with options to design to the specific requirements of the Belgian and Singaporean National Annexes as well as the design of slender circular hollow sections, user defined sections and support of shear buckling for a range of sections. Indian IS 800:2007 enhanced with the working stress design method. The API 2A design module has been updated to support the latest errata and supplements. The Concrete Design Mode now includes an option for slabs to be checked for reinforcement requirements to the Eurocode 2 EN1992-1-1:2004.
STAAD.Pro V8i is the choice analysis and design software of 47 out of 50 leading US Structural Engineering firms, 46 out of 50 state DOTs and 7 out of the top 10 engineering universities. STAAD.Pro V8i SELECTseries 4 features state-of-the-art user interface, visualization tools, powerful analysis and design engines with advanced finite element and dynamic analysis capabilities. From model generation, analysis and design to visualization and result verification, STAAD.Pro V8i is the professional's choice for steel, concrete, timber, aluminum and cold-formed steel design of low and high-rise buildings, culverts, petrochemical plants, tunnels, bridges, piles and much more!
screenshot: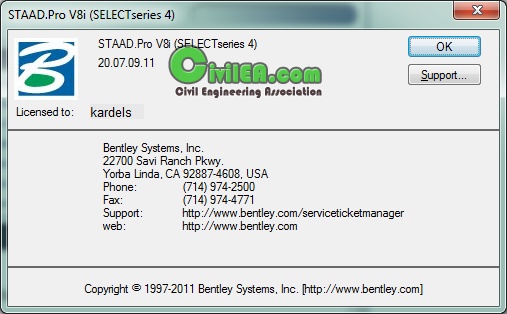 Download:
***************************************
Content of this section is hidden, You must be registered and activate your account to see this content. See this link to read how you can remove this limitation:

http://forum.civilea.com/thread-27464.html
***************************************
inside the rar file are the following:
stpst20070911en.exe
ssync081109129en.exe
trial version



IMPORTANT NOTICE:
You may use this software for evaluation purposes only. If you like it, it is strongly suggested you buy it to support the developers. By any means you may not use this software to make money or use it for commercial purpose.
"Sometimes it is more noble to tell a small lie than to deliver a painful truth."