Rapidshare Auto Downloader 4.0

Rapidshare Auto Downloader 4.0 | 5.43 MB
Rapidshare Auto Downloader is a handy automatic downloader for rapidshare.com users.
Here are some key features of "Rapidshare Auto Downloader":
· Download a group of links from rapidshare (one by one).
· Download incomplete downloads until all links are downloaded.
· Autoshutdown feature
· Load and save the download list.
· Check for new versions automatically.
· Support of 3 Languages : English , Farsi , French
Requirements:
· NET Framework
Change Log:
· Deleting incomplete downloaded files
· Adding support for rapidshare.net links
· Adding language support for : Arabic, Bulgarian, Catalan, Croatian, Czech, Danish, Deutsch, Dutch, Farsi, Finnish, French, Greek, Hebrew, Hindi, Hungarian, Indonesian, Italian, Lithuanian, Macedonian, Polish, Portuguese, Romanian, Russian, Serbian, simplified Chinese, Spanish, Traditional Chinese, Turkish, Ukrainian
What's new:
- Some improvements to user interface.
- Adding "Clipboard Monitoring" feature.
- Skipping the filtered links. (useful for Iranian users)

[img]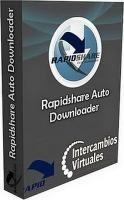 [/img]

***************************************
Content of this section is hidden, You must be registered and activate your account to see this content. See this link to read how you can remove this limitation:

http://forum.civilea.com/thread-27464.html
***************************************

***************************************
Content of this section is hidden, You must be registered and activate your account to see this content. See this link to read how you can remove this limitation:

http://forum.civilea.com/thread-27464.html
***************************************