Autodesk AutoCAD PID V2010 x64

Create, modify, and manage piping and instrumentation diagrams with AutoCAD® P&ID software. Built on the latest AutoCAD® platform, AutoCAD P&ID is easy to use and familiar to process plant designers and engineers so design teams can begin working immediately with minimal training.
With AutoCAD P&ID, you can streamline and automate common tasks; easily access component and line information; and use tools for the simple reporting, editing, sharing, validating, and exchange of design information so your projects start easier, run better, and finish sooner.
Features:
Project Manager
AutoCAD® P&ID software makes it easy for designers and process plant engineers to set up projects and track revisions. Project-management tools allow the straightforward organization of DWG™ files across an entire project.
Data Manager
Know the impact of external data updates and better validate and manage engineering data throughout a project with this enhanced change-management, viewing, and editing functionality.
Dynamic Lines and Dynamic Components
Simplify many of the detailed design and editing tasks you perform repeatedly every day. Use Dynamic Lines to create, move, and snap lines into place. Reduce the manual breaking and mending of lines with intuitive grip editing and manipulation. Lines automatically break and attach to components that are inserted on, or attached to, the line, and automatically mend when a component is removed.
With Dynamic Components, quickly move and snap components with dynamically linked properties and information into place without the burden of manually editing underlying data.
Reporting and Information Exchange
Use external data sources to easily report, edit, and share piping and instrumentation design project information. Import and export data into formatted data tables as well as various file formats, such as Microsoft® Excel® and .csv. Quickly sort and organize information for easy referencing.
Installation guide:
unpack the files
2.) burn or mount the image
3.) install
4.) Check Readme.txt into Shooters Directory.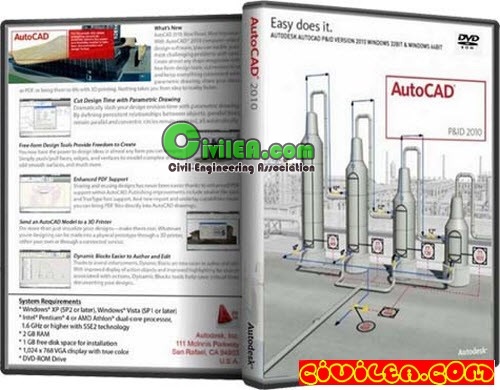 Code:
***************************************
Content of this section is hidden, You must be registered and activate your account to see this content. See this link to read how you can remove this limitation:

http://forum.civilea.com/thread-27464.html
***************************************
We create our Tomorrows by what we dream Today...