RM Bridge CONNECT Edition 10.02.00.12 |
Size:
489.6 MB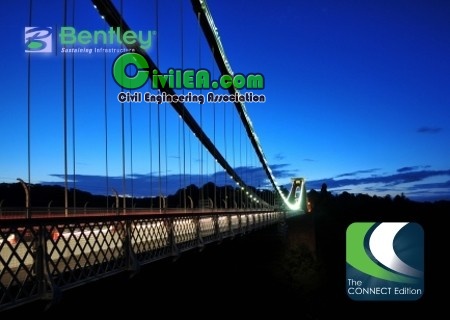 Bentley Systems Inc., the leading company dedicated to providing comprehensive software solutions for sustaining infrastructure, has released the 10.02.00.12 version RM Bridge CONNECT Edition is a major offering within the Bentley bridge solution, which also includes world-class applications for road design, digital terrain modeling, bridge design, structural engineering and analysis, steel detailing, concrete reinforcement, and bridge load rating and analysis.
RM Bridge is compatible with MicroStation, Bentley's common design platform, and ProjectWise, Bentley's platform for connecting people and information across project teams. This integration substantially broadens the movement of data not only within the bridge delivery disciplines (planning through construction) but also across the life of the bridge. Running RM Bridge with ProjectWise and/or Bentley Navigator, users are able to perform a synthesis of bridge information modeling, continuously sharing, reusing, and repurposing data. They enjoy the many benefits of real-time collaboration and streamlined engineering content management – working across multiple locations and time zones, among numerous contributors, companies, and stakeholders.
With this system, data integration happens at a fairly granular level, enabling users to:
- Browse quickly for the right information, including legacy bridge data
- Create an array of structure and infrastructure project models and flyarounds
- Utilize raster and other data formats
- Check for geometrical conflicts in the multi-discipline infrastructure model
- Simulate and manage construction schedules
By implementing the Bentley bridge solution, users enjoy the full benefits of a real-world solution for delivery, maintenance, and operation of bridge systems, and improve ROI in data at every step of the bridge lifecycle.

Code:
***************************************
Content of this section is hidden, You must be registered and activate your account to see this content. See this link to read how you can remove this limitation:

http://forum.civilea.com/thread-27464.html
***************************************


Code:
***************************************
Content of this section is hidden, You must be registered and activate your account to see this content. See this link to read how you can remove this limitation:

http://forum.civilea.com/thread-27464.html
***************************************