Bentley Power ProStructures V8i SS7 08.11.11.616
Size:
1.2 GB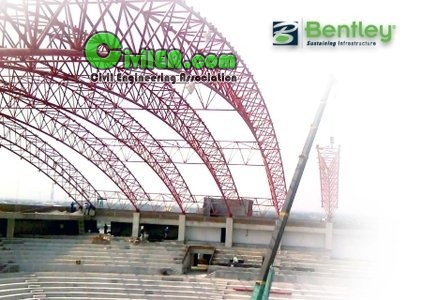 Bentley Systems Inc., the leading company dedicated to providing comprehensive software solutions for sustaining infrastructure, has released the V8i (SELECTSeries 7) 08.11.11.616 version of Power ProStructures is a enables engineers to reduce documentation production time and assists them in eliminating errors and design flaws and to design and document composite structures.
Based on standard platforms, ProStructures easily allows structural engineers, detailers, and fabricators to create 3D models for both concrete and steel. ProStructures provides automatic creation of documentation, details, and schedules. The open working environment and programming interface supports standardization of the program.
Bentley's ProStructures includes ProSteel and ProConcrete
- The automatic creation of documentation and details increases productivity and therefore profitability. The detailing includes miscellaneous steel such as stairs, handrails, ladders, and circular stairs. The documentation provides 2D drawings from a 3D model, including bills of materials, NC data, and PPS data.
- ProStructures eliminates duplication of effort and increases interoperability. It offers integration with Bentley products as well as third-party products.
- ProStructures can be easily customized and standardized due to its flexibility and the programming interface. Workflows are optimized due to this open working environment.
- From initial planning and design to assembly, ProStructures is a comprehensive software built by engineers experienced with design
About Bentley Systems, Incorporated
Bentley is the global leader dedicated to providing architects, engineers, constructors, and owner-operators with comprehensive architecture and engineering software solutions for sustaining infrastructure. Founded in 1984, Bentley has nearly 3,000 colleagues in more than 45 countries, $500 million in annual revenues, and, since 2001, has invested more than $1 billion in research, development, and acquisitions.

[align=left]

***************************************
Content of this section is hidden, You must be registered and activate your account to see this content. See this link to read how you can remove this limitation:

http://forum.civilea.com/thread-27464.html
***************************************

***************************************
Content of this section is hidden, You must be registered and activate your account to see this content. See this link to read how you can remove this limitation:

http://forum.civilea.com/thread-27464.html
***************************************

***************************************
Content of this section is hidden, You must be registered and activate your account to see this content. See this link to read how you can remove this limitation:

http://forum.civilea.com/thread-27464.html
***************************************

***************************************
Content of this section is hidden, You must be registered and activate your account to see this content. See this link to read how you can remove this limitation:

http://forum.civilea.com/thread-27464.html
***************************************

***************************************
Content of this section is hidden, You must be registered and activate your account to see this content. See this link to read how you can remove this limitation:

http://forum.civilea.com/thread-27464.html
***************************************
To engineers who, rather than blindly following the codes of practice, seek to apply the laws of nature.


......T.Y Lin