Autodesk SketchBook Pro 7.2.1 Multilingual (x86/x64)
Size:
55.54 (x86) /55.61(x64) MB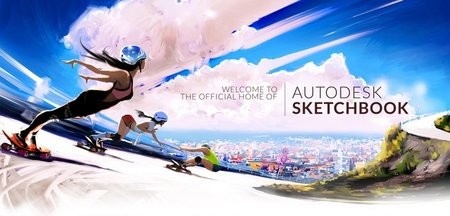 Autodesk SketchBook® Pro is a fun and intuitive paint and drawing application, enabling you to transform your computer into the ultimate artist toolkit. SketchBook Pro is specially optimized to work in companion with pen tablets such as Wacom® BambooTM, Intuos®, and Cintq® products or with Windows-based tablet devices to deliver an authentic drawing experience.
Flipbook animation toolset
Create simple animations with intuitive workflows.
Perspective tool
Create perfect perspective lines.
Familiar tools and brush types
Choose from more than 100 illustration tools.
Pen tablet support
Use a variety of pen tablets and devices.
Custom brushes
Customize your illustration tools.
Streamlined and customizable interface
Spend less time hunting for tools and commands.
Custom colors and more
Create and save your own colors.
Annotate and iterate with layers
Import images easily with layers.
Recommended System Requirements:
- Pressure-sensitive pen tablets or Windows-based tablets are recommended for optimal drawing experience. 1 GB RAM, Graphics card capable of 1,024 x 768 display with 128 MB RAM, and 1 GB RAM recommended.
- For use with Windows 8, Window 7 SP1, 1 GHz Intel or AMD processor
- For use with 10.7, 10.8, or 10.9 with 1 GHz, Intel-based CPU.
What's new in SketchBook Pro 7.2.1:
- Create a FlipBook from image sequences
Bug fixes and improvements:
- Export a frame with Export Current Frame or entire flipbook with Export FlipBook.
- Import image sequences into a flipbook:
- Add a sequence of images to an existing FlipBook with Add Images as Frames.
- Add images that are not part of a sequence or even the same file format to create a FlipBook with New FlipBook from Image Sequence.
New brushes and brush sets:
- Glow - Choose from an assortment of glow brushes in the Brush Library.
- Inking - Use this brush for all your inking needs. You can find it in the Brush Library.

***************************************
Content of this section is hidden, You must be registered and activate your account to see this content. See this link to read how you can remove this limitation:

http://forum.civilea.com/thread-27464.html
***************************************

***************************************
Content of this section is hidden, You must be registered and activate your account to see this content. See this link to read how you can remove this limitation:

http://forum.civilea.com/thread-27464.html
***************************************

***************************************
Content of this section is hidden, You must be registered and activate your account to see this content. See this link to read how you can remove this limitation:

http://forum.civilea.com/thread-27464.html
***************************************

***************************************
Content of this section is hidden, You must be registered and activate your account to see this content. See this link to read how you can remove this limitation:

http://forum.civilea.com/thread-27464.html
***************************************