Autodesk Softimage 2013 SP1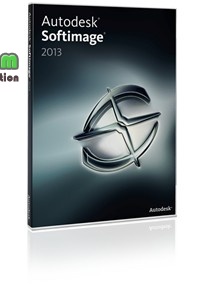 Autodesk Softimage 2013 SP1
English | Pc | Windows | x86 x64 | Size: 3.12 GB 3.24 Gb
Download ID: TNBU00267
Genre: Graphics and Design Software
Free Download - Single Extraction - No Password
Description: Autodesk Softimage - a high performance software for 3D animation characters and visual effects. Intuitive, non-destructive procedures, innovative environment ICE (Interactive Creative Environment), and Face Robot facial animation tools Autodesk significantly expand the capabilities of the workflow, organized on the basis of Autodesk Maya or Autodesk 3ds Max. With new features, improved interoperability with products from the premium Autodesk Entertainment Creation Suite and support for users of modern technology Autodesk Softimage easily face the challenges in the development stages of the 3D-game and post production.
Hardware (minimum)
- DirectX 9.0c application programming interface, and higher (recommended for support of the advanced features of DirectX 9 application programming interface)
- Certified hardware-accelerated OpenGL 1.5 (or higher) professional graphics card with latest graphics driver available from vendor
- Intel Pentium D processor workstation (or higher)
- 2 GB of RAM; 4 GB RAM for 64-bit
- 1.5 GB free hard drive space. Setup requires additional temporary disk space for the system's temporary folder when decompressing files during installation.
- DVD-ROM drive
- Network adaptor with internet connection for licensing
- Three-button mouse
- 1,280 x1, 024 screen resolution recommended
CrowdFX - Simulation of the crowd with the functions of a multi-threaded system with particles of ICE (Interactive Creative Environment).
High-quality viewport - The results are reviewed in an environment that accurately simulates the final rendering.
Advanced installation options, and animations - Improved overall performance of the preparation of the animation.
Bullet physics module to ICE - Advanced simulation of collisions, and the dynamics of particles based on a rigid body.
New tools for modeling and selection - Growth of new tools contribute to the effectiveness of polygonal modeling, and object selection.

[align=left]

***************************************
Content of this section is hidden, You must be registered and activate your account to see this content. See this link to read how you can remove this limitation:

http://forum.civilea.com/thread-27464.html
***************************************

***************************************
Content of this section is hidden, You must be registered and activate your account to see this content. See this link to read how you can remove this limitation:

http://forum.civilea.com/thread-27464.html
***************************************