09-16-2012, 07:10 PM (This post was last modified: 09-16-2012, 07:14 PM by Mohammad6299.)
Autodesk 3ds Max 2013 (x86/X32)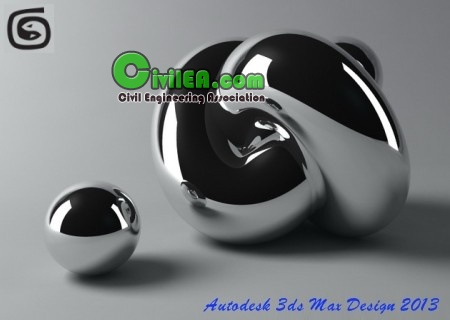 Create rich and complex design visualization. Generate realistic characters for a top-selling game. Bring 3D effects to the big screen.
Autodesk 3ds Max supports 3D modeling, animation, and rendering software helps design visualization professionals, game developers, and visual effects artists maximize their productivity by streamlining the process of working with complex scenes.
Viewing and Handling of Large, Complex Scenes
3ds Max software delivers new viewport technology and optimizations that result in vastly improved interactivity of even the largest, most complex scenes. Common tasks and operations-selection, material assignment, transform, grouping, cloning, and many more-are now significantly faster, making 3ds Max the most streamlined version of the software ever. Plus, a new Scene Explorer makes managing large scenes-and interacting with hundreds or even thousands of objects-far more intuitive.
Review Rendering
Produce stunning photo-real imagery, faster. With the release of 3ds Max, Autodesk unveils Review. This powerful new toolset supports iterative rendering workflows by delivering interactive previewing of shadows, the 3ds Max sun/sky environment, and mental ray Architectural and Design material settings. Based on the latest game engine technology, Review gives you the instant visual feedback you need to iterate rapidly.
Support for Complex Pipelines and Workflows
Quickly extend 3ds Max or streamline multi-application workflows. The new MAXScript ProEditor provides you with an intuitive interface for working with MAXScript that will streamline the scripting workflow, making it easier to author scripts that automate and customize 3ds Max. Deeper support for the DWG and FBX file formats results in faster, more accurate importing of data from other popular Autodesk applications; plus, new features facilitate working with this imported data.
Artist-Friendly Modeling
Enjoy a less menu-dependent modeling experience. 3ds Max gives you a more streamlined, artist-friendly modeling workflow through a collection of hands-on modeling UI options that let you focus more on the creative process.

***************************************
Content of this section is hidden, You must be registered and activate your account to see this content. See this link to read how you can remove this limitation:

http://forum.civilea.com/thread-27464.html
***************************************

***************************************
Content of this section is hidden, You must be registered and activate your account to see this content. See this link to read how you can remove this limitation:

http://forum.civilea.com/thread-27464.html
***************************************

***************************************
Content of this section is hidden, You must be registered and activate your account to see this content. See this link to read how you can remove this limitation:

http://forum.civilea.com/thread-27464.html
***************************************

***************************************
Content of this section is hidden, You must be registered and activate your account to see this content. See this link to read how you can remove this limitation:

http://forum.civilea.com/thread-27464.html
***************************************