Files Over Miles
Send files direct to other users (P2P) using your browser

Your files are sent the shortest way - directly between the recipient and you. There are no intermediate servers slowing down the process. Try FilesOverMiles and send files between your home computers to see how fast it is! You control who downloads your shared file. You give a secret and unique URL generated by FilesOverMiles. Your file is encrypted and sent direct to another user. No intermediate servers.
Step 1 : Go to FilesOverMiles website. Click "Browse" and select the file to transfer.
Code:
***************************************
Content of this section is hidden, You must be registered and activate your account to see this content. See this link to read how you can remove this limitation:

http://forum.civilea.com/thread-27464.html
***************************************
Step 2 : As soon as you select the file, the site will generate an unique URL which you have to share with the user to want to send the file to.

Step 3 (2nd User) : The PC on the receiving end of this file transfer must go this unique url which will show a download option from the file to be transferred PC to PC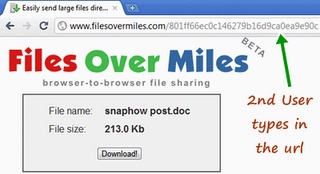 "If I had eight hours to chop down a tree, I'd spend six sharpening my ax. "
- A. Lincoln