10-04-2010, 06:15 PM (This post was last modified: 12-27-2010, 03:38 PM by Dell_Brett.)
Roger A. Horn, Charles R. Johnson "Matrix Analysis"
and
Topics in Matrix Analysis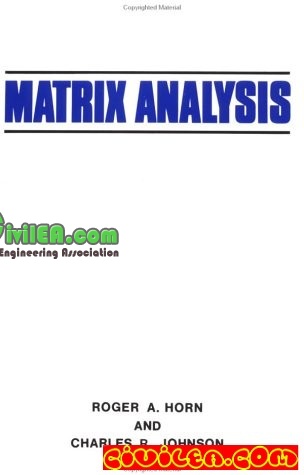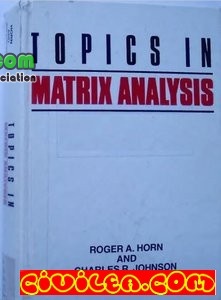 Matrix Analysis:
Cambridge University Press
1990-02-23
ISBN: 0521386322 | 575 pages | Djvu | 16,2 Mb
Linear algebra and matrix theory have long been fundamental tools in mathematical disciplines as well as fertile fields for research. In this book the authors present classical and recent results of matrix analysis that have proved to be important to applied mathematics. Facts about matrices, beyond those found in an elementary linear algebra course, are needed to understand virtually any area of mathematical science, but the necessary material has appeared only sporadically in the literature and in university curricula. As interest in applied mathematics has grown, the need for a text and reference offering a broad selection of topics in matrix theory has become apparent, and this book meets that need. This volume reflects two concurrent views of matrix analysis. First, it encompasses topics in linear algebra that have arisen out of the needs of mathematical analysis. Second, it is an approach to real and complex linear algebraic problems that does not hesitate to use notions from analysis. Both views are reflected in its choice and treatment of topics.
Topics in Matrix Analysis :
Publisher: Cambridge University Press
ISBN: 052130587X | edition 1991 | DjVu | 607 pages | 21 mb
Building on the foundations of its predecessor volume, Matrix Analysis, this book treats in detail several topics with important applications and of special mathematical interest in matrix theory not included in the previous text. These topics include the field of values, stable matrices and inertia, singular values, matrix equations and Kronecker products, Hadamard products, and matrices and functions. The authors assume a background in elementary linear algebra and knowledge of rudimentary analytical concepts. This should be welcomed by graduate students and researchers in a variety of mathematical fields and as an advanced text and modern reference book.
Code:
***************************************
Content of this section is hidden, You must be registered and activate your account to see this content. See this link to read how you can remove this limitation:

http://forum.civilea.com/thread-27464.html
***************************************
Code:
***************************************
Content of this section is hidden, You must be registered and activate your account to see this content. See this link to read how you can remove this limitation:

http://forum.civilea.com/thread-27464.html
***************************************