09-26-2009, 12:31 PM (This post was last modified: 06-26-2010, 02:13 AM by concreteok.)
Matrix Structural Analysis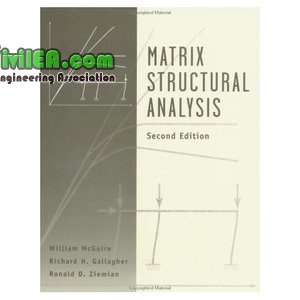 info:
By William McGuire
Publisher:John Wiley & Sons Inc; 2 edition | 1999 | 460 Pages | ISBN: 0471129186 | PDF | 12.23 MB
" With the first edition being published over twenty years ago, the aim of this edition remains the same which is to place proper emphasis on the methods of matrix structural analysis used in current practice, and to provide the groundwork for forthcoming practice and allied, more advanced subject matter. This edition features new chapters on the nonlinear analysis of framed structures, treatment of the solution of nonlinear problems.
Download Links:
***************************************
Content of this section is hidden, You must be registered and activate your account to see this content. See this link to read how you can remove this limitation:

http://forum.civilea.com/thread-27464.html
***************************************
Generate By Civilea PostGen V1.3
1.Follows the
rules
2.Use
"

Search

"
before posting
3.Post in the
correct sections
4.
Do not spam
5.Respect the other members