Post-Tensioned Beam Design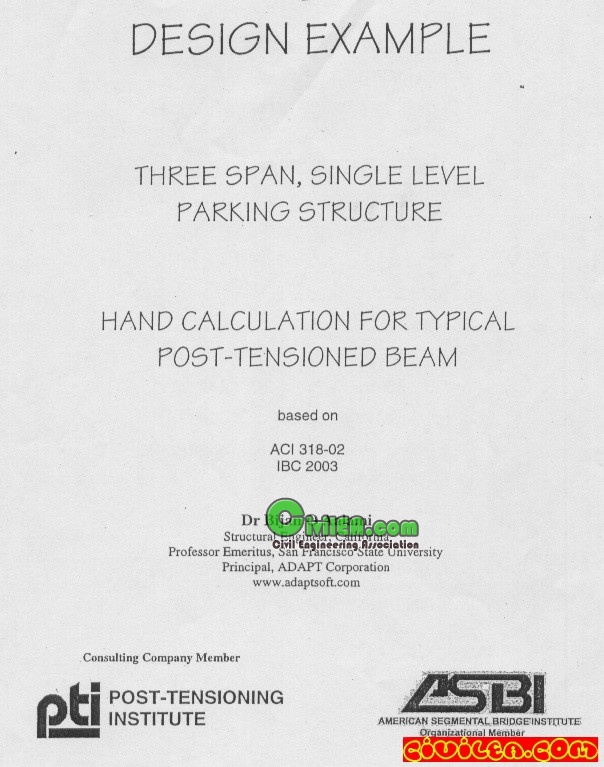 A full design example of a three span,single level parking structure T-beam example.
Presented by Professor Bijan O Aalami based on ACI 318-02 and IBC 2003.
Design steps:
1)Preliminary Steps:
a.Member thickness.
b.Cover to rebar and prestressing.
2)Computational Steps:
a.Geometry and structural system.
b.Material properties.
c.Loading.
d.Design parameters.
e.Actions due to dead and live loads.
f.Actions due to post-tensioning.
g.Stress check for serviceability.
h.Minimum passive reinforcement.
i.Strength calculation for bending.
j.Shear design.
k.Deflection check.
l.Stresses at transfer.
m.Tendon and reinforcement layout.
n.Computer solution.
Note: sorry again for my lack of skills in combining multiple pictures into a Pdf,I would greatly appreciate it if someone recommends Me how to do it on my profile comments.

***************************************
Content of this section is hidden, You must be registered and activate your account to see this content. See this link to read how you can remove this limitation:

http://forum.civilea.com/thread-27464.html
***************************************
.