PROCEEDINGS OF THE FOURTH INTERNATIONAL CONFERENCE ON SOFT SOIL ENGINEERING, VANCOUVER, CANADA, 4–6 OCTOBER 2006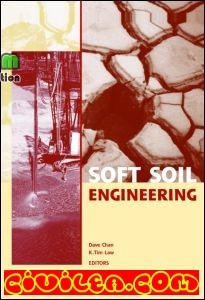 Editors
Dave Chan
Department of Civil & Environmental Engineering, University of Alberta,
Edmonton, Alberta, Canada
K. Tim Law
Department of Civil and Environmental Engineering, Carleton University,
Ottawa, Canada
Copyright © 2007 Taylor & Francis Group plc, London, UK
ISBN13: 978-0-415-42280-2
Size of zip file: 22.8 mb
755 pages
The Fourth International Conference on Soft Soil Engineering provided an opportunity for geo-professional, geotechnical engineers, academic and researchers, to share their experiences and research results on soft soils.The Fourth International Conference on Soft Soil Engineering was held in Vancouver where there are soft soil problems since Vancouver is situated at the river delta of the Fraser River. Delegates from over 20 countries gathered in Hotel Vancouver between October 4 and 6, 2006 to discuss soft soils engineering. The conference dealt with many technical issues of soft soil engineering such as soft soil construction, ground behaviour of soft soils, numerical modeling, hazard mitigation and post hazard ground investigation and improvements. There were four keynote lectures given by leading professors/engineers from Canada, Germany, Australia and China who shared their research findings and experiences in dealing with soft soils.

***************************************
Content of this section is hidden, You must be registered and activate your account to see this content. See this link to read how you can remove this limitation:

http://forum.civilea.com/thread-27464.html
***************************************