Autodesk 3DS Max 2011Full + SP1 + Subscription Advantage Pack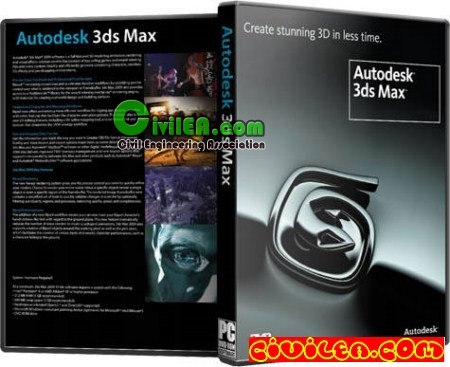 Autodesk 3DS Max 2011 is a comprehensive, integrated solution for 3D modeling, animation and rendering solutions for professionals in the field of game development, visual effects and design.
- Powerful 3D Modeling - Advanced set of tools for modeling and texturing helps you work faster and more efficiently.
- Develop tools and animation of characters - Integrated set of tools for character animation (CAT) is an advanced system of rigging and animation.
- Several built-in renderer - Artists can create realistic or stylized work with closely integrated into the 3ds Max scan line, and mental ray ® rendering module, including unlimited network rendering mental ray for rendering acceleration.
- Enhanced support for manufacturing processes - With support for C and. NET application developers can integrate 3ds Max into current manufacturing processes.
- Import / export FBX to Unreal - Creation and animation of models in Autodesk 3ds Max, export to Autodesk ® FBX ® import and Unreal ® Editor.
Autodesk 3ds Max Design 2011 is a comprehensive, integrated solution for 3D modeling and animation tools, used by experts in the field of architecture, construction, engineering and visualization.
- Rapid iteration of the project - Thanks to the excellent interaction between 3ds Max Design with the products of families of AutoCAD ®, Revit ® and Autodesk ® Inventor ® workflow users are not violated when the reverse changes. The product also supports more than 30 formats, 2D and 3D data.
- Exact calculation of natural lighting - 3ds Max Design - one of the instruments adopted by the CNRC to analyze and calculate the effects of reflected light and natural light. In addition, direct lighting can be studied in the viewport in real time.
- High quality imaging - Proven technology allows designers and visualization specialists to create cinema-quality images using:
- A set of advanced tools for polygon modeling
- Built-in animation, character creation and effects
- Unlimited network rendering with mental ray
How to enable iRay:
(We put Max, SP1, then Subscription Advantage Pack.)
In Max'e in dialogue Render Setup \ Common \ Assign Renderer opposite Production click the button (...) in the dialog box, select the mental ray iray Renderer. Click (OK).
Installation process:
Before installing the program you want to install:
Microsoft Visual C 2008 SP1 Redistributable Package (x64)
and for XP, and Microsoft. NET Framework 3.5 SP1
When you install a window for selecting the components you want to disable the installation files Help'a!
To run the program requires Microsoft DirectX
Year: 2010
Version: 13.1.0.114 (SP1)
Developer: Autodesk Inc
Platform: Microsoft Windows
Bit depth: x32/x64bit
Compatible with Windows 7: complete
Language: English
Medicine: Yes

***************************************
Content of this section is hidden, You must be registered and activate your account to see this content. See this link to read how you can remove this limitation:

http://forum.civilea.com/thread-27464.html
***************************************