01-24-2010, 07:36 AM (This post was last modified: 01-25-2010, 12:03 AM by Dell_Brett.)
Structural Developments in Tall Buildings: Current Trends and Future Prospects

---------------------------------------
Moderator note:
This article corresponds a part of the "Architectural Science Review Volume 50, Number 3, September 2007" - pages 205 to 223 (19 pages)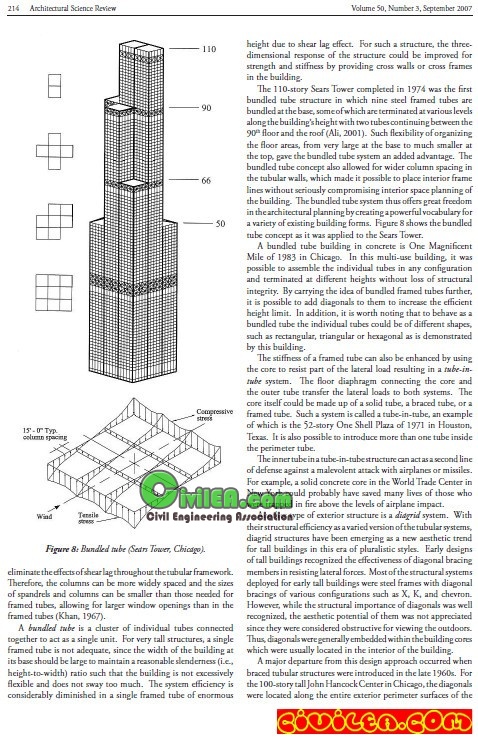 ---------------------------------------
Abstract: Tall building developments have been rapidly increasing worldwide. Tis paper reviews the evolution of tall building's structural systems and the technological driving force behind tall building developments. For the primary structural systems, a new classification – interior structures and exterior structures – is presented. While most representative structural systems for tall buildings are discussed, the emphasis in this review paper is on current trends such as outrigger systems and diagrid structures. Auxiliary damping systems controlling building motion are also discussed. Further, contemporary "out-of-the-box" architectural design trends, such as aerodynamic and twisted forms, which directly or indirectly affect the structural performance of tall buildings, are reviewed. Finally, the future of structural developments in tall buildings is envisioned briefly.
Keywords: Aerodynamics, Building forms, Damping systems, Diagrid structures, Exterior structures, Interior structures, Outrigger systems, Structural performance, Structural systems, Tall buildings

Code:
***************************************
Content of this section is hidden, You must be registered and activate your account to see this content. See this link to read how you can remove this limitation:

http://forum.civilea.com/thread-27464.html
***************************************

Code:
***************************************
Content of this section is hidden, You must be registered and activate your account to see this content. See this link to read how you can remove this limitation:

http://forum.civilea.com/thread-27464.html
***************************************