Bentley OpenPlant Modeler CONNECT Edition V10 Update 9 (10.09.00.74) x64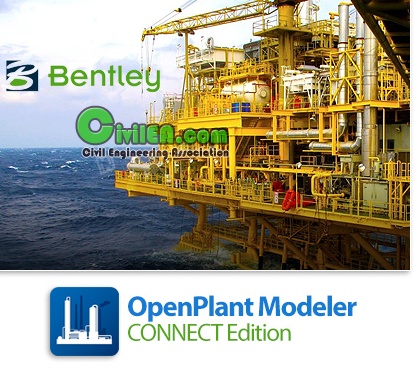 Quickly and easily perform 3D design of your piping, HVAC, and electrical equipment with Bentley OpenPlant Modeler. Increase project team collaboration and speed up review cycles through the interoperability the software provides with open data models. You can also lower software costs by economically scaling your OpenPlant deployment to fit any size project.
OpenPlant CONNECT Edition is the first product in Bentley's multi-discipline plant design solution to utilize iModelHub, Bentley's cloud service that tracks all changes made to project designs and notifies users about the changes. iModelHub allows you to synchronize to and from particular timeline milestones and visualize, summarize, analyze, and interpret the impact of ongoing changes.
OpenPlant Modeler CONNECT Edition, the first 3D plant modeling software based on ISO 15926, is an accurate, rapid, design engineering solution for 3D plant design. It enhances project teams with mobile information, i-models, and support for multiple formats and data types, such as DGN, DWG, JT, point clouds, and PDF, to provide flexible design and review processes. It is both more versatile and productive than any existing "3-D piping" application. The OpenPlant Modeler CONNECT Edition includes SELECT CONNECTservices, new Azure-based services that provide comprehensive learning, mobility, and collaboration benefits to every Bentley application subscriber Optional Pre-requisite: Structural Synchronizer is required for ISM data interchange workflows only.

***************************************
Content of this section is hidden, You must be registered and activate your account to see this content. See this link to read how you can remove this limitation:

http://forum.civilea.com/thread-27464.html
***************************************

***************************************
Content of this section is hidden, You must be registered and activate your account to see this content. See this link to read how you can remove this limitation:

http://forum.civilea.com/thread-27464.html
***************************************

***************************************
Content of this section is hidden, You must be registered and activate your account to see this content. See this link to read how you can remove this limitation:

http://forum.civilea.com/thread-27464.html
***************************************

***************************************
Content of this section is hidden, You must be registered and activate your account to see this content. See this link to read how you can remove this limitation:

http://forum.civilea.com/thread-27464.html
***************************************

***************************************
Content of this section is hidden, You must be registered and activate your account to see this content. See this link to read how you can remove this limitation:

http://forum.civilea.com/thread-27464.html
***************************************