STAAD Foundation Advanced CONNECT Edition 08.04.00.21
Size:
493 MB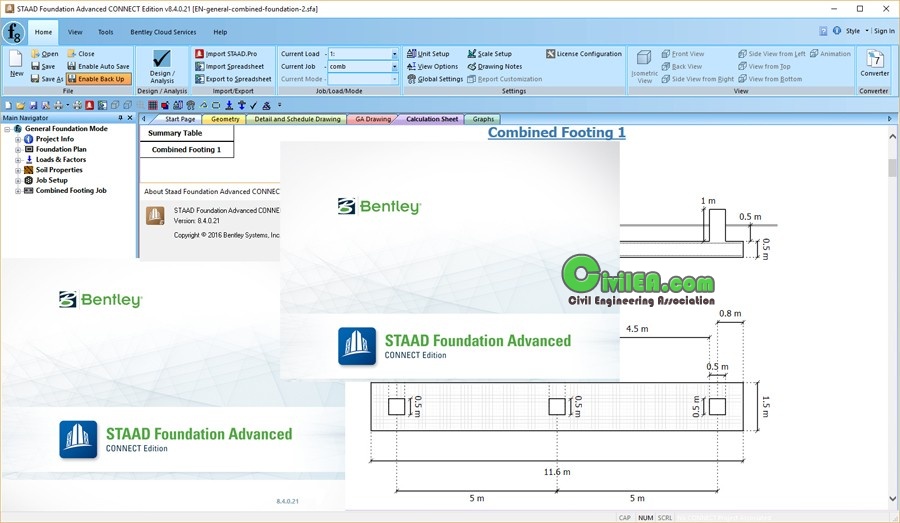 A part of the STAAD family of products, STAAD Foundation Advanced can import and update the geometry, loads, and reactions from a STAAD.Pro model after which it will design the foundation type that we want at those supports. If the type happens to be a pilecap, it can determine a number of pile arrangements and design the pilecap for the arrangment that we choose. Data can also be brought from spreadsheets (e.g., such as that in Microsoft Office Excel®) into STAAD Foundation Advanced.
For mat foundation designs, STAAD Foundation Advanced creates a finite element model of the mat slab on grade. Soil is treated as spring supports whose stiffness is determined based on the size of the elements of the FE mesh. The model is then analyzed using STAAD.Pro, and, design of the slab is performed by aggregating the results across elements that are clustered into design strips.
In addition to the benefits that interoperability with STAAD.Pro provides, the program also functions in a standalone mode.

[align=left]

Code:
***************************************
Content of this section is hidden, You must be registered and activate your account to see this content. See this link to read how you can remove this limitation:

http://forum.civilea.com/thread-27464.html
***************************************

Code:
***************************************
Content of this section is hidden, You must be registered and activate your account to see this content. See this link to read how you can remove this limitation:

http://forum.civilea.com/thread-27464.html
***************************************

Code:
***************************************
Content of this section is hidden, You must be registered and activate your account to see this content. See this link to read how you can remove this limitation:

http://forum.civilea.com/thread-27464.html
***************************************

Code:
***************************************
Content of this section is hidden, You must be registered and activate your account to see this content. See this link to read how you can remove this limitation:

http://forum.civilea.com/thread-27464.html
***************************************