Bentley Limcon 03.63.02.04 build 12/10/2015
Size:
20 MB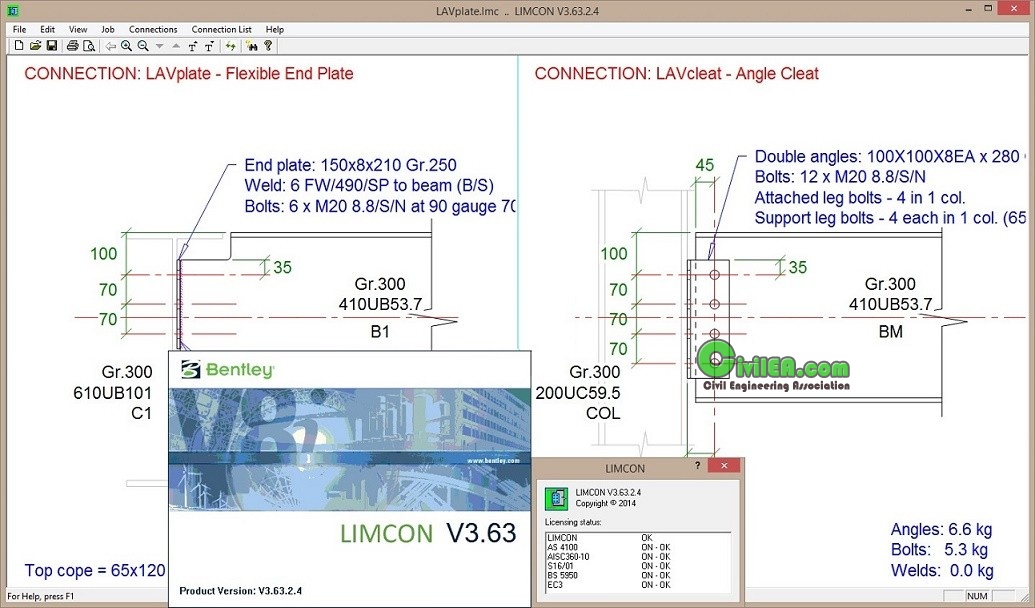 What's New :
New Connections
   Hollow structural section connections.
   4-bolt and 8-bolt moment end plate connections for RHS/SHS.
   AISC flush and extended multiple row moment end plate connections.
   Bolt goup and weld group.
Other New Features
   Options for checking to AISC LRFD and BS 5950*.
   Additional libraries, bolt sizes, and grades.
   Section library management / section input.
   Display of section and member mark in virtual reality view.
   Optional elastic/plastic analysis for splices and moment connections.
Additions to Existing Connections
   Axial loads in WSP, FEP, and ACLT connections.
   Column shear in haunched moment end plate connection.
   Option for 4 lines of bolts in splice plates and moment end plates.
   More than 2 columns of bolts in web splice plates.
   More than 2 columns of bolts in bracing cleat.
   Checking of attached plate and member in bracing cleat connection.
   Revised weld capacity requirement in web side plate connection.

Code:
***************************************
Content of this section is hidden, You must be registered and activate your account to see this content. See this link to read how you can remove this limitation:

http://forum.civilea.com/thread-27464.html
***************************************


Code:
***************************************
Content of this section is hidden, You must be registered and activate your account to see this content. See this link to read how you can remove this limitation:

http://forum.civilea.com/thread-27464.html
***************************************

Code:
***************************************
Content of this section is hidden, You must be registered and activate your account to see this content. See this link to read how you can remove this limitation:

http://forum.civilea.com/thread-27464.html
***************************************