Seismic earth pressures on retaining structures with cohesive backfills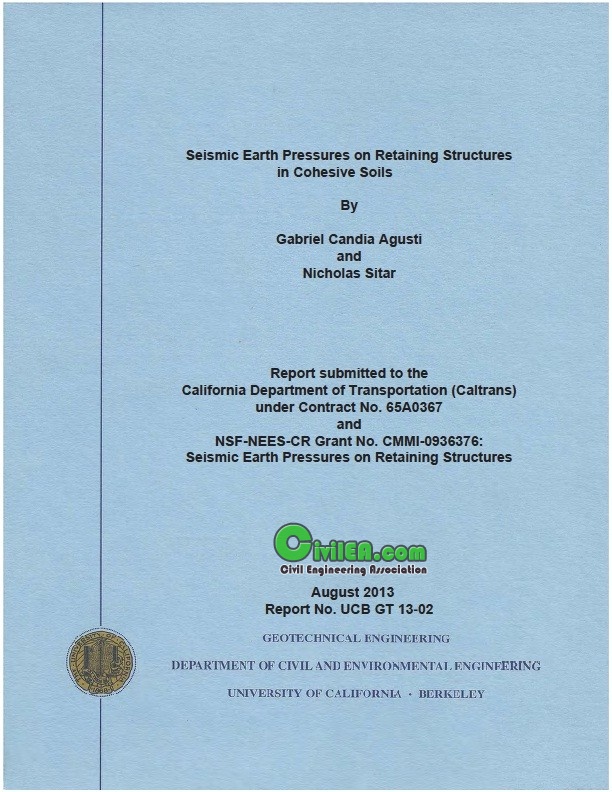 Author(s):

Candia Agusti, Gabriel; Sitar, Nicholas




Published By:

The Earthquake Engineering Online Archive




Published Year:

2013




Size:

8 MB




Quality:

Unspecified




Related Link:




Abstract:

Report presents the results of centrifuge model experiments and numerical analyses of seismic response of retaining structures with cohesive backfill. The experimental results show that the static and seismic earth pressures increase linearly with depth and that the resultant acts at 0.35H-0.4H, as opposed to 0.5-0.6H assumed in current engineering practice. Overall, the results also show that typical retaining walls designed with a static factor of safety of 1.5 have enough strength capacity to resist ground accelerations up to 0.4g.


***************************************
Content of this section is hidden, You must be registered and activate your account to see this content. See this link to read how you can remove this limitation:

http://forum.civilea.com/thread-27464.html
***************************************

UCB/GT-2013-02, University of California, Berkeley, Geotechnical Engineering

***************************************
Content of this section is hidden, You must be registered and activate your account to see this content. See this link to read how you can remove this limitation:

http://forum.civilea.com/thread-27464.html
***************************************
This post has been made by

CivilEA Post-Generator

V2.3.1