11-27-2015, 07:41 PM (This post was last modified: 11-27-2015, 07:44 PM by ibg0203. Edit Reason: )
Bentley MicroStation CONNECT Edition 10.00.00.25
Size:
1.5 GB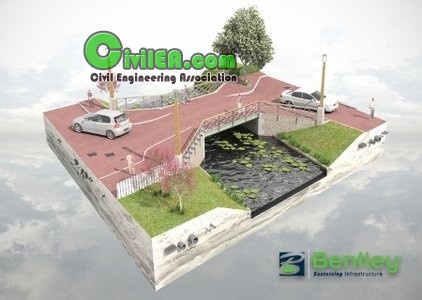 Bentley Systems Inc., a leading company dedicated to providing comprehensive software solutions for sustaining infrastructure, has released the CONNECT Edition 10.00.00.25 version of MicroStation is an innovative CAD platform used by teams of architects, engineers, contractors, and GIS professionals to integrate work on buildings, civil engineering projects, power plants, and geospatial information.
Bentley Systems announced new programs at the inaugural CONNECTION Event introducing the CONNECT Edition. The CONNECT Edition provides the first common environment for comprehensive project delivery – comprising a common modeling environment, commonperformance environment, and commondata environment. The CONNECT Edition leverages the Microsoft Azure cloudservice to span hybrid computing configurations for every project and enterprise. From the Franklin Institute in Philadelphia, Pa., the CONNECTION Event series moves on to 28 cities around the globe over the next five months.
MicroStation CONNECT Edition: Introductory Access Program
MicroStation CONNECT Edition provides the common modeling environment for comprehensive infrastructure delivery. Its innovations, which include functional components and a common documentation center, enable optioneering across disciplines.
About Bentley Systems, Incorporated
Bentley is the global leader dedicated to providing architects, engineers, constructors, and owner-operators with comprehensive architecture and engineering software solutions for sustaining infrastructure. Founded in 1984, Bentley has nearly 3,000 colleagues in more than 45 countries, $500 million in annual revenues, and, since 2001, has invested more than $1 billion in research, development, and acquisitions.

[align=left]

Code:
***************************************
Content of this section is hidden, You must be registered and activate your account to see this content. See this link to read how you can remove this limitation:

http://forum.civilea.com/thread-27464.html
***************************************

Code:
***************************************
Content of this section is hidden, You must be registered and activate your account to see this content. See this link to read how you can remove this limitation:

http://forum.civilea.com/thread-27464.html
***************************************

Code:
***************************************
Content of this section is hidden, You must be registered and activate your account to see this content. See this link to read how you can remove this limitation:

http://forum.civilea.com/thread-27464.html
***************************************

Code:
***************************************
Content of this section is hidden, You must be registered and activate your account to see this content. See this link to read how you can remove this limitation:

http://forum.civilea.com/thread-27464.html
***************************************
To engineers who, rather than blindly following the codes of practice, seek to apply the laws of nature.


......T.Y Lin