11-09-2015, 09:23 PM (This post was last modified: 11-09-2015, 09:24 PM by rami1976. Edit Reason: )
Do pdf version 7
Size:
4 MB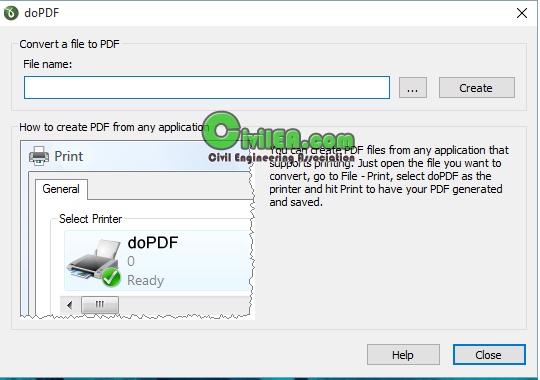 Using doPDF you can freely convert documents to searchable PDF files from any Windows
application. It installs as a printer driver and helps you generate the PDF files by simply
selecting the "print" command from any application (you can convert your Word documents,
Excel sheets, PowerPoint presentations, AutoCad drawings, company's reports, contracts, workflows,
agreements, marketing plans, forms, products list, price list, charts, emails or web pages).
The resulted PDF files can be viewed on any computer with a PDF viewer (reader) installed.
doPDF has a lot of features that allows you to: modify the paper size, modify the resolution
(from 72 to 2400 dpi), change page orientation (portrait, landscape), change the quality settings,
embed font subsets and lots more. The user interface supports localization, thus using doPDF in
your own language (currently English, German, Spanish, French, Italian, Czech, Korean, Dutch,
Japanese, Polish, Swedish, Portuguese, Brazilian, Serbian, Ukrainian, Romanian, Chinese Simplified,
Russian, Greek and Hungarian are supported).

[align=left]

Code:
***************************************
Content of this section is hidden, You must be registered and activate your account to see this content. See this link to read how you can remove this limitation:

http://forum.civilea.com/thread-27464.html
***************************************

Code:
***************************************
Content of this section is hidden, You must be registered and activate your account to see this content. See this link to read how you can remove this limitation:

http://forum.civilea.com/thread-27464.html
***************************************