Your Uninstaller Pro 7.5
Size:
6.5 MB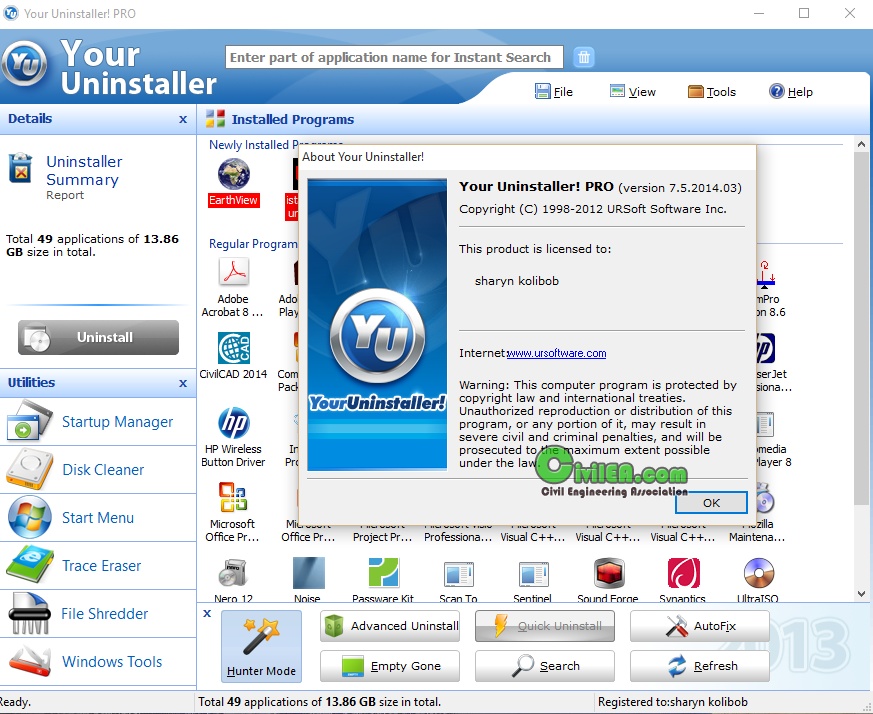 Complete removal
Unlike other similar tools, Your Uninstaller! scans whole system for related files and traces and manages to remove them.
Uninstall FAST!
Open fast, respond fast, remove fast, simple clicks do complex jobs. Your Uninstaller is lightning fast scanning your system for left-overs.
Manage your programs
Group programs, sort by size, change icon, write comments, backup registry or lock programs. Software management made easy.
Latest technology
Your Uninstaller! is built using the latest technology: Windows 7, 64bit, memory caching along with modern user interface, which brings excellent user experience.
Support auto fix ( to rectify errors ) , registry cleaner ( delete all registry keys related to the program to be uninstalled - i suggest to use super mode while trying to uninstall a program)

[align=left]

***************************************
Content of this section is hidden, You must be registered and activate your account to see this content. See this link to read how you can remove this limitation:

http://forum.civilea.com/thread-27464.html
***************************************

***************************************
Content of this section is hidden, You must be registered and activate your account to see this content. See this link to read how you can remove this limitation:

http://forum.civilea.com/thread-27464.html
***************************************

***************************************
Content of this section is hidden, You must be registered and activate your account to see this content. See this link to read how you can remove this limitation:

http://forum.civilea.com/thread-27464.html
***************************************