Bentley AutoPIPE Vessel V8i SS1 MR1 33.03.01.07
Size:
502.3 MB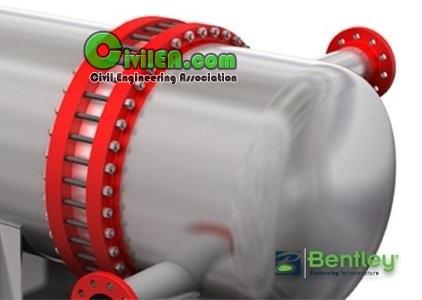 Bentley Systems Incorporated, the leading company dedicated to providing comprehensive software solutions for sustaining infrastructure, has released the V8i (SELECTSeries 1) version 33.03.01.07 of Bentley AutoPIPE Vessel, its a the Most Comprehensive Software for Vessel Pressure, Heat Exchanger, and Tank Design Optimization.
AutoPIPE Vessel powered by Microprotol enables fully automatic workflows, including complete global codes and applied loadings for pressure vessels, heat exchangers, tanks, and air coolers, to deliver greater productivity, safer designs, cost effective manufacturing, and improved project collaboration.
It is the only application to perform truly optimized vessel design in minutes. AutoPIPE Vessel creates fully detailed engineering drawings and cost estimates in less than five minutes.
Maintenance Release 1 – AutoPIPE Vessel V8i (SELECTseries 1) Powered by Microprotol (Version 33.03.01.07):
http://communities.bentley.com/pipe_stress_analysis/
About Bentley Systems, Incorporated
Bentley is the global leader dedicated to providing architects, engineers, geospatial professionals, constructors, and owner-operators with comprehensive software solutions for sustaining infrastructure. Bentley Systems applies information mobility to improve asset performance by leveraging information modeling through integrated projects for intelligent infrastructure. Its solutions encompass the MicroStation platform for infrastructure design and modeling, the ProjectWise platform for infrastructure project team collaboration and work sharing, and the AssetWise platform for infrastructure asset operations - all supporting a broad portfolio of interoperable applications and complemented by worldwide professional services. Founded in 1984, Bentley has more than 3,000 colleagues in 50 countries, more than $500 million in annual revenues, and since 2003 has invested more than $1 billion in research, development, and acquisitions.

Code:
***************************************
Content of this section is hidden, You must be registered and activate your account to see this content. See this link to read how you can remove this limitation:

http://forum.civilea.com/thread-27464.html
***************************************

Code:
***************************************
Content of this section is hidden, You must be registered and activate your account to see this content. See this link to read how you can remove this limitation:

http://forum.civilea.com/thread-27464.html
***************************************

Code:
***************************************
Content of this section is hidden, You must be registered and activate your account to see this content. See this link to read how you can remove this limitation:

http://forum.civilea.com/thread-27464.html
***************************************


Code:
***************************************
Content of this section is hidden, You must be registered and activate your account to see this content. See this link to read how you can remove this limitation:

http://forum.civilea.com/thread-27464.html
***************************************

Code:
***************************************
Content of this section is hidden, You must be registered and activate your account to see this content. See this link to read how you can remove this limitation:

http://forum.civilea.com/thread-27464.html
***************************************
---
POST EDITED BY MODERATOR:
- REMOVED UNNECESSARY OPEN HYPERLINK UNDER COMMENTS