Bentley LEAP Bridge Steel V8i SS2 01.02.00.01
Size:
198.1 MB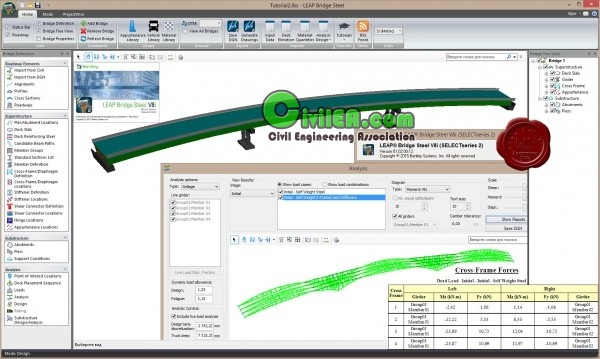 LEAP Bridge Steel provides parametric 3D modeling, streamlined analysis, design, and rating of straight and curved I-girder and box-girder bridges. LEAP Bridge Steel is the latest addition to the proven LEAP Bridge offerings for prestressed and post-tensioned concrete bridge design and rating, used by 42 state departments of transportation.
   Streamlined modeling workflow for rapid modeling of all bridge components.
   Instant 3D visualization of the bridge superstructure and substructure.
   Extensive options for viewing and printing analysis and design results.
With LEAP Bridge Steel, member cross sections can be selected from supplied libraries of standard sections or defined as built-up members. Bridges are modeled completely in 3D with full 3D visualization. LEAP Bridge Steel is powered by the STAAD.Pro engine for structural analysis and offers users two analysis options: line girder or 3D grillage. LEAP Bridge Steel conforms to the provisions of the 6th Edition of the AASHTO LRFD Bridge Design Specification and the 2nd Edition of the AASHTO Manual for Bridge Evaluation.
As a complement to the LEAP Bridge Enterprise, LEAP Bridge Steel shares the RC-PIER system for pier and abutment design. Capitalizing on the full Bentley Bridge Information Modeling portfolio of solutions, LEAP Bridge Steel is compatible with Bentley MicroStation, Power GEOPAK, Power InRoads and InspectTech.

Code:
***************************************
Content of this section is hidden, You must be registered and activate your account to see this content. See this link to read how you can remove this limitation:

http://forum.civilea.com/thread-27464.html
***************************************

Code:
***************************************
Content of this section is hidden, You must be registered and activate your account to see this content. See this link to read how you can remove this limitation:

http://forum.civilea.com/thread-27464.html
***************************************


Code:
***************************************
Content of this section is hidden, You must be registered and activate your account to see this content. See this link to read how you can remove this limitation:

http://forum.civilea.com/thread-27464.html
***************************************

Code:
***************************************
Content of this section is hidden, You must be registered and activate your account to see this content. See this link to read how you can remove this limitation:

http://forum.civilea.com/thread-27464.html
***************************************
PinkPant