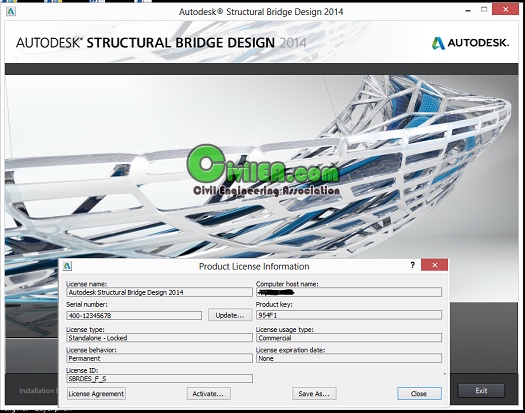 An integrated structural bridge design solution
Structural Bridge Design software gives you greater flexibility and efficiency in your bridge design processes. Perform integrated loading, analysis, and code checking of small- to medium-span bridges and deliver design reports faster. Rely on more accurate, consistent, and verifiable data throughout the project lifecycle.
Features
Create better bridge designs faster with finite element analysis
Review code checks
Build detailed, hand-style design calculation sheets with code check requirements.
Use side-by-side graphical displays in Structural Bridge Design software
Create reliable reports
Review and validate requirements throughout the design process.
Use bridge design software to generate detailed reports
Deliver reports faster
Speed report delivery with loading, analysis, and code checking integration.
Accelerate project refinement
Create detailed designs faster with productivity tools that help you define bridge components and easily incorporate them into the analytical model. Save time with automatic calculations of section properties for all shapes and materials. Allow for stages of construction to support a faster design process on small to medium bridge projects.
Structural Bridge Design software, formerly Sam Integrated Bridge Design software, automatically generates optimized traffic loading in a fully integrated environment. This enables you to refine design options faster with automated change updates in a "define-analyze-code check" loop.
Validate requirements with reliable reporting
Better understand structural behavior with side-by-side graphical displays of data and results at all stages of analysis and design.
Review pass/fail criteria for beams from graphical displays of actual and limiting load effects.
Use detailed hand-style design sheets that are created with full formulas and code referencing to review code check requirements.
Clarify reports and aid in the checking process with embedded screen graphics within the calculation sheet.
Deliver better reports faster
Design sections and bridge beams based on a variety of international standards—including Eurocodes, AASHTO LRFD, British Standards, and Australian and New Zealand Standards. Develop a more economical solution using a single system that doesn't require import or export or need to convert data. Create reports that need minimal editing by generating calculations directly from the system, which helps you save time and money.

Code:
***************************************
Content of this section is hidden, You must be registered and activate your account to see this content. See this link to read how you can remove this limitation:

http://forum.civilea.com/thread-27464.html
***************************************

Code:
***************************************
Content of this section is hidden, You must be registered and activate your account to see this content. See this link to read how you can remove this limitation:

http://forum.civilea.com/thread-27464.html
***************************************

See readme.txt for details of activation
Code:
***************************************
Content of this section is hidden, You must be registered and activate your account to see this content. See this link to read how you can remove this limitation:

http://forum.civilea.com/thread-27464.html
***************************************

Code:
***************************************
Content of this section is hidden, You must be registered and activate your account to see this content. See this link to read how you can remove this limitation:

http://forum.civilea.com/thread-27464.html
***************************************