08-08-2014, 06:30 PM (This post was last modified: 08-09-2014, 10:29 AM by Dell_Brett.)
A Beginner's Guide to Structural Equation Modeling 3rd ed
Author:

Randall E. Schumacker & Richard G. Lomax

|

Size:

7.8 MB

|

Format:

PDF

|

Quality:

Unspecified

|

Publisher:

Routledge

|

Year:

2010

|

pages:

531

|

ISBN:

1841698911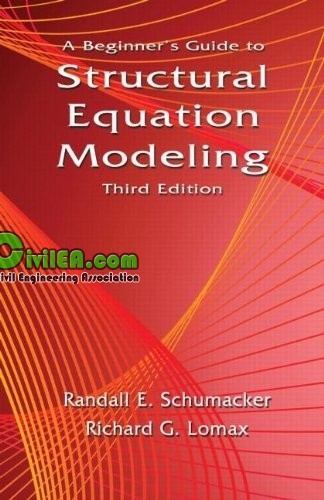 This best-seller introduces readers to structural equation modeling (SEM) so they can conduct their own analysis and critique related research. Noted for its accessible, applied approach, chapters cover basic concepts and practices and computer input/output from the free student version of Lisrel 8.8 in the examples.
Each chapter features an outline, key concepts, a summary, numerous examples from a variety of disciplines, tables, and figures, including path diagrams, to assist with conceptual understanding.
The book first reviews the basics of SEM, data entry/editing, and correlation. Next the authors highlight the basic steps of SEM: model specification, identification, estimation, testing, and modification, followed by issues related to model fit and power and sample size. Chapters 6 through 10 follow the steps of modeling using regression, path, confirmatory factor, and structural equation models. Next readers find a chapter on reporting SEM research including a checklist to guide decision-making, followed by one on model validation. Chapters 13 through 16 provide examples of various SEM model applications. The book concludes with the matrix approach to SEM using examples from previous chapters.

Code:
***************************************
Content of this section is hidden, You must be registered and activate your account to see this content. See this link to read how you can remove this limitation:

http://forum.civilea.com/thread-27464.html
***************************************