DREAMCALC Professional 4.8.0 Portable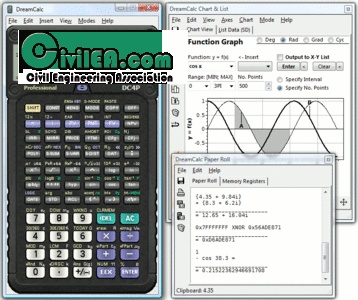 DreamCalc is the leading Scientific Graphing Calculator for Windows that's so realistic it dispenses with the need for a physical hand-held altogether!
Graph functions & plot data in seconds.
Fully featured range of math, scientific, statistical & financial functions. Supports natural fractions, complex numbers, base-n logic, unit conversions and a powerful polynomial solver.
Over 260 functions!
Select from algebraic input or RPN. DreamCalc adapts to your way of working!
With the optional ability to run in your Windows system tray--DreamCalc will always be there whenever you find yourself reaching for a calculator.

[align=left]

***************************************
Content of this section is hidden, You must be registered and activate your account to see this content. See this link to read how you can remove this limitation:

http://forum.civilea.com/thread-27464.html
***************************************

***************************************
Content of this section is hidden, You must be registered and activate your account to see this content. See this link to read how you can remove this limitation:

http://forum.civilea.com/thread-27464.html
***************************************

***************************************
Content of this section is hidden, You must be registered and activate your account to see this content. See this link to read how you can remove this limitation:

http://forum.civilea.com/thread-27464.html
***************************************

***************************************
Content of this section is hidden, You must be registered and activate your account to see this content. See this link to read how you can remove this limitation:

http://forum.civilea.com/thread-27464.html
***************************************