02-23-2013, 12:42 PM (This post was last modified: 02-23-2013, 12:50 PM by Mohammad6299.)
Paragon Partition Manager 12 Professional 10.1.19.15721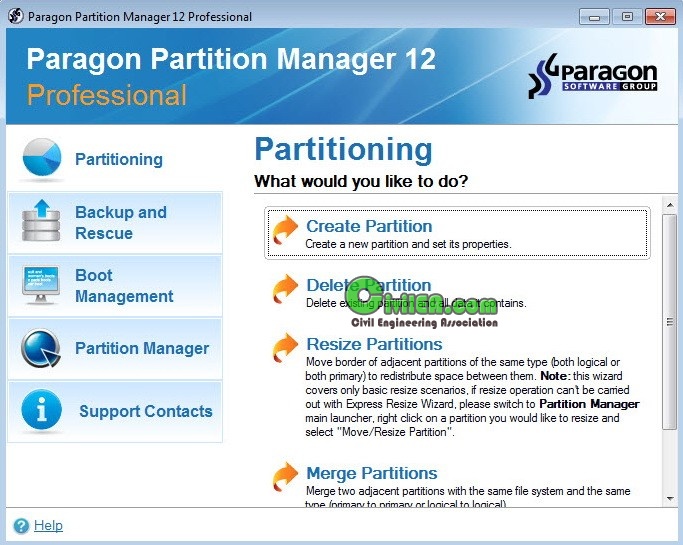 Partition Manager Professional software to perform various operations on partitions is simple and safe to be used by regular users as well as professional users. By this software, you can simply do the partitioning of your hard disk, change parameters of sections and access hidden areas.
Facilities using Partition Manager you will have:
- perform any manipulation on the partition.
- edit sections: hide / show off, enable / disable, give / remove partitions, changing drive labels , convert file system, etc.
- re-distribution of space between volumes.
- backup disk or partition.
- Make a backup of the system and data on local or network drive before you perform various operations.
- Setting up a computer by CD rescue, recovery disks or partitions, as well as cancel any operation in the event of an error.
- Quick View sections FAT, FAT32, NTFS, Ext2, Ext3 FS to edit or copy files and directories Using the File Manager.
- install and manage operating systems on one computer.
- compatible with Windows Server 2008 family and Windows 7.
- Create, format and delete partitions without losing data.
- move and resize partitions.
- Professional copy hard disk partitions.
- copied without resizing.
- defragment disks and partitions for better access.
- MFT defragmentation and compression.
- making a rescue disk.
- Map Drive settings for virtual hard disks and partitions .
- Support GPT disk.
- Support for 64bit systems.
- powerful recover partitions that have been deleted accidentally.

Code:
***************************************
Content of this section is hidden, You must be registered and activate your account to see this content. See this link to read how you can remove this limitation:

http://forum.civilea.com/thread-27464.html
***************************************

Code:
***************************************
Content of this section is hidden, You must be registered and activate your account to see this content. See this link to read how you can remove this limitation:

http://forum.civilea.com/thread-27464.html
***************************************

Code:
***************************************
Content of this section is hidden, You must be registered and activate your account to see this content. See this link to read how you can remove this limitation:

http://forum.civilea.com/thread-27464.html
***************************************

Code:
***************************************
Content of this section is hidden, You must be registered and activate your account to see this content. See this link to read how you can remove this limitation:

http://forum.civilea.com/thread-27464.html
***************************************

Code:
***************************************
Content of this section is hidden, You must be registered and activate your account to see this content. See this link to read how you can remove this limitation:

http://forum.civilea.com/thread-27464.html
***************************************