Paragon Partition Manager 11 SE Personal Build 9887

Creating Dual Boot Systems
For Windows computers
Release of Windows Vista has given a new impetus to the problem of establishing a dual boot system. In this connection we decided to consider two the most frequently used situations a rank and file user may face, i.e. Windows Vista + Windows XP and Windows XP + Windows Vista. Please note that for reasons of better security and system independence these operating systems will be installed on different partitions. That is why we need to hide the first system partition before installation of the second OS.
Windows Vista + Windows XP
Suppose you have got Windows Vista coming with your brand new computer. Everything is great except one thing – your favourite applications simply reject to work correctly on it. Software updates are expected to release in the near future, but you cannot wait any more. Thus the best way out is to leave Windows Vista intact and install the time-proved Windows XP.
Most likely you have only one hard disk with only one partition (the only partition is always system). To install the second operating system you need to repartition your drive first, as it requires a separate primary partition. If this is the case, you can do your job either with the Install New OS Wizard (a specially designed tool for that) or traditionally with a number of the corresponding wizards and dialogs.
Paragon Software's advanced partitioning tools help you completely control and manage your hard disks.With growing hard drive capacity, the need to reasonably split up the space is more important than ever. This easy-to-use partitioning tool is ideal for re-structuring your hard disk for optimal and effective data storage.
Features:
• Latest Soft - and Hardware-Support. Enjoy full-fledged support for Windows 7, the 64bit versions of Windows XP, Vista and 7, the new GPT-formatted hard disks (used in Windows 7, Vista, Mac® OS X and Linux) and the latest Linux-Kernel.
• Basic Partitioning Features. Create, format, delete, undelete, hide or unhide partition; set partition active/inactive; set, change or remove drive letter; change hard disk partition label (Volume Label); convert file systems; check file system integrity; run complete surface test.
• Advanced Partitioning Features. Resize or merge partitions without data loss; Hot Resize - enlarge NTFS partitions without rebooting Windows; simple installation of new OS; redistribute free space; convert Primary partition to Logical and vice versa; Update Master Boot Record (MBR).
• Copy Features. Copy a full hard disk or a separate partition. You can even resize a partition while copying it.
• Incremental Copy: Copy only sectors that are different from the moment of the last copy operation, thus considerably decreasing the amount of data to write.
• Boot Management Features. Easily activate/deactivate the boot manager and setup a multi-boot environment. Boot Corrector to resolve most common boot problems. Hidden mode. Default settings and boot on timeout.
• Defragmentation Features. Different strategies of file system optimization according to one of the three parameters (file date, file size, directory order). Optimization of the page file and the hibernation file allocations.
• Basic Backup Features. Back up data and system to an archive, a local drive, an external USB/Firewire drive or network share.
• Advanced Backup Features. Create backup images without leaving Windows with Paragon Hot Backup™ technology. Restore system and data even from bare-metal state. Restore partition with resize. Restore separate files and folders. Power Shield™ technology - resumes critical partitioning operations after a power failure.
• Linux/DOS Recovery Environment. Create Linux/DOS bootable media on a USB flash drive, CD or DVD for fast, reliable maintenance and recovery operations. Fix crashed operating systems, perform partitioning operations, access and copy important documents with the recovery media after a system crash or hardware failure.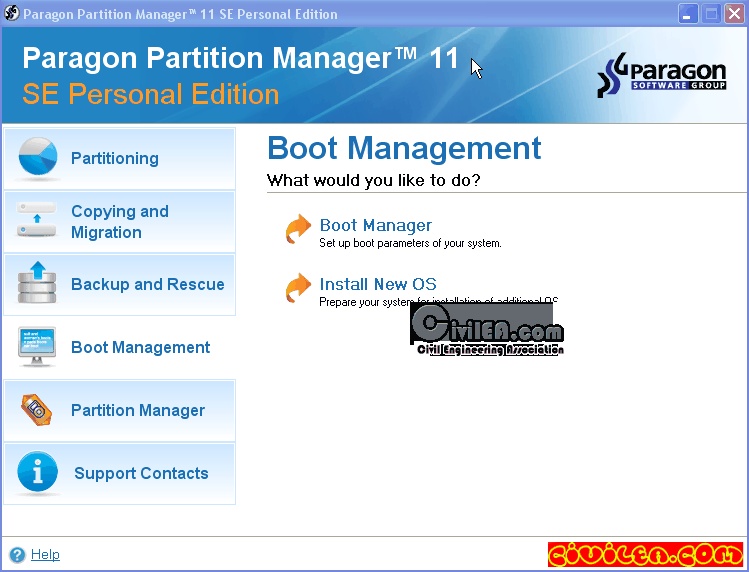 ***************************************
Content of this section is hidden, You must be registered and activate your account to see this content. See this link to read how you can remove this limitation:

http://forum.civilea.com/thread-27464.html
***************************************

***************************************
Content of this section is hidden, You must be registered and activate your account to see this content. See this link to read how you can remove this limitation:

http://forum.civilea.com/thread-27464.html
***************************************
Use those keys for installing. In the inside key.txt the serial is scrambled.
Product Key: PM11-SE-EN-5332245
Serial Number: 0584-E-730D2-122F4-D05EE
IMPORTANT NOTICE: You may use this software for evaluation purposes only.
If you like it, it is strongly suggested you buy it to support the developers.
By any means you may not use this software to make money or use it for commercial purpose.
1.Read the HELP and the Rules before posting.
2.Always post in the right thread.
3.Search before to prevent duplicates.
4.Use Preview Post to check.
5.THE BEST - Use the Post Generator.
6.Use the THANKS button.
7.Don't use REPLY if no need, use New Reply.


Chatting not allowed.