ShowMe Software ProKon v10.0wy
- The Calculation Companion -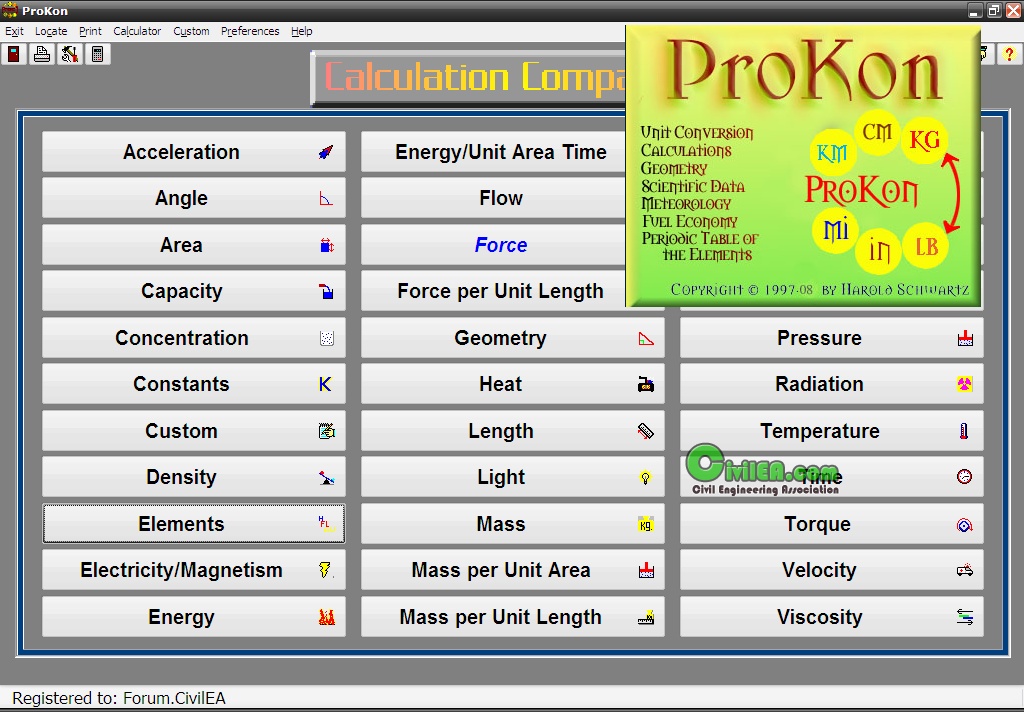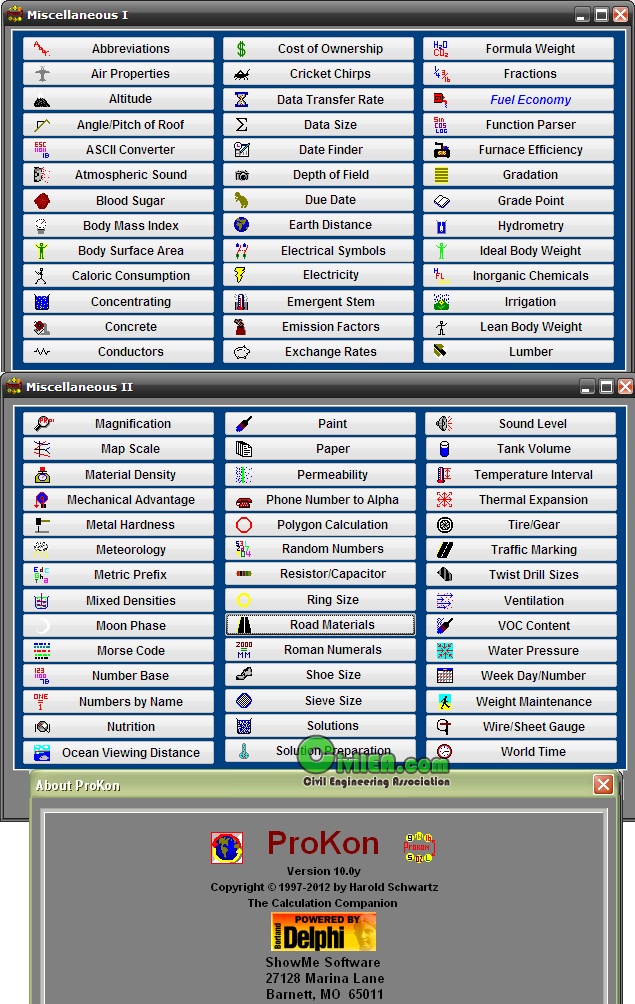 The Windows Calculation Companion
• Capable of more than 400,000 different conversions.
• More than 60 additional calculation modules included.
• Includes a periodic table with pertinent information on each element.
• Scientific/Financial calculator with scrollable tape and integrated help.
• Material density class giving metric and Imperial densities of more than 600 common materials.
• Geometry class providing helpful hints for solving common geometric problems.
• Custom Conversion class for adding conversions that might not be included in ProKon .
• All conversion info can be printed or copied to clipboard and file.
• Comprehensive help is available throughout the program.
• Excellent teaching tool for anyone learning the metric system.
• Compatible with Windows 95/98/ME, Windows NT, Windows 2000, Windows XP, Windows Vista, and Windows 7
• Conversion results can be displayed graphically.
• Windows XP Themes enabled.
• New Installation Utility based on InnoSetup
• B
eginning with v10.0u, ProKon is compatible with Windows XP 64-Bit, Vista 64-Bit. and Windows 7 64-Bit
ProKon (short for Professional Converter)
is a 32-bit & 64 bit Microsoft Windows program that is intended to perform numerical conversions between the various units used in the scientific and business community. Early versions of ProKon were capable of performing this, and only this, function. As the program has evolved, many things have been added so that the current version is capable of doing much, much more. Following is a complete description ProKon and what ProKon is capable of doing for you. ProKon is intended for use with Windows 95, Windows 98, Windows ME, Windows NT, Windows 2000, and Windows XP. ProKon cannot be used with Windows 3.11 or earlier versions. There is a 16-bit version of ProKon available (called SICon) that is capable of this.
The primary use for ProKon is to convert numerical data to/from various units of measurement. While focusing on conversions between the metric and Imperial (English) systems of measurement, it is capable of performing conversions between many other units, foreign, ancient, and archaic. ProKon's capabilities have grown to the point that it is capable of performing well over 400,000 different unique conversions. You would have a difficult time finding a measurement unit that is not already included in ProKon. Even if you could, ProKon has the capability of storing any special conversion units that you might come up with in a special "Custom" conversion class.
The conversions in ProKon are grouped into various "Classes". Each class contains units that would logically fit in the Class description. Examples of classes are Mass, Length, Viscosity, Density, Concentration, Light, Temperature, Area, etc. In all, there are 26 Classes to select from. Each of the units contained in any Class can be converted to any of the other compatible units in the Class. Selection of a pair of units for conversion presents a calculation window in which calculations can be performed. Calculations are performed 'dynamically', meaning that as values are entered under one unit, the converted value is updated instantaneously to the other unit. Either conversion value may be edited to dynamically display results - useful for 'what if' calculations. All data shown can be printed, or copied to Windows clipboard and file.
ProKon also contains a Periodic Table of the Elements. Selecting the Periodic Table class shows the complete periodic table of the elements. Any element may be selected to bring up a window showing pertinent data on that element. Such things as atomic number, atomic weight, density, oxidation states, melting point, boiling point are shown along with descriptive text on the element giving reactivity, uses, sources, prevalence, toxicity, etc. All data shown can be printed, or copied to Windows clipboard and file.
A Class titled 'Material Density' gives density of over 600 common materials. Approximate density is given in both metric and Imperial (English) units. Densities are available for materials from acetylene to flint to mahogany to zirconium. Again, all data shown can be printed, or copied to Windows clipboard and file.
A 'Geometry' Class gives a folder of common geometric formulae. Each page of the folder shows a keyed graphic of a geometric figure along with various formulae that can be used to perform calculations pertinent to that figure. Very useful for finding that formula that you learned in school but 'forgot'.
A 'Constants' Class contains a folder of various types of numerical constants used in the scientific and academic communities. These lists are a valuable reference tool for constants used in chemistry, physics, mathematics, etc.
Also available from within ProKon is ProKalc, a pop-up combination scientific/financial calculator with a scrolling tape. The ProKon calculator is capable of performing all of the standard math operations +, -, X, /, as well as such things as logarithms, natural logs, trigonometric functions, hyperbolic functions, powers, roots, factorials, combinations, permutations, reciprocals, percentages, etc. Financial calculations such as present value, future value, loan calculations, profit/loss, interest, currency conversions, dividend, and investments can be performed. A 10-location, non-volatile memory that is saved between sessions in included. Although very intuitive and easy to use, integrated help is available for all calculator functions. All or a portion of the calculator tape can be printed or sent to clipboard or file. The ProKon calculator features 15-digit accuracy with no rounding errors.
The 'Miscellaneous' Classes actually offers 62 additional modules, some of which give access to databases of information on various topics. Others allow calculation of various types of data that are not true 'conversions' but that are, nevertheless, quite useful. Modules available are: a module for inorganic chemicals that gives data such as formula weight, density, physical form, melting point, boiling point, etc. on a very large number of inorganic chemicals, a nutritional database that gives nutritional data on a large number of food items, for instance, calories, fat content, carbohydrate content, etc. A 'Standard Sieve' module gives information such as sieve opening size, standard sieve number, wire size, etc. on the standard sieve series and a 'Wire/Sheet Gauge' module gives wire diameter and sheet thickness in both metric and Imperial units. A 'Number Base Conversion' module allows conversion of decimal, binary, octal, or hexadecimal values between the various systems and an 'Electrical Calculation' module allows calculation of various electrical properties such as ohms, volts, watts, energy cost, and electric motor properties. A 'Meteorological' module allows calculation of numerous 'weather' related values such as relative humidity, dew point, wind chill index, etc. Recent additions to Miscellaneous for contractor or engineering type work include a Concrete module that allows calculation of various information needed by contractors and those involved in calculating quantities of concrete required for concrete pours, a Lumber module allowing calculation of data related to board feet requirements, a Paint module which calculates paint requirements and theoretical paint coverage, a Twist Drill Size module giving a database of info, and a Gauge module giving thickness and diameter requirements of various systems of wire and sheet gauge. A graphical and interactive Resistor/Capacitor module allows calculation of resistance or capacitance values through a point-and-click interface. Other modules include an Irrigation module which allows calculation of irrigation requirements such as time to irrigate, amount of irrigation water required, area or quantity of water required, a Roman Numerals module which allows calculation of Roman numerals from decimal value and which allows simple math performed on Roman numerals, a Fractions module allowing conversion to and from fractions and decimals, and a Formula Weight calculator module which allows calculation of chemical formula weight by simply entering a chemical formula. To go on, there's a Sound module, an architectural symbol database, and a module that allows currency conversions to and from approximately 220 currencies from around the world. The currency rate conversion module allows for instant updates of the currency conversion factors database from the internet. These rate factors are current within a day and come to you compliments of ShowMe Software. To round out the Miscellaneous class is a module that allows calculation of various 'solution' parameters such as the amount of material required to dissolve in an existing solution to obtain a solution of a given strength or the amount of water to add to a solution of given strength to reduce its strength. Look below for a comprehensive list of the various modules available.
With the latest version, the Miscellaneous Class has been split into Miscellaneous I and Miscellaneous II. In addition, several new modules have been added. These include a Paper module that allows the calculation of various paper measures. Also added are a Metal Hardness, a Mixed Density, A Numbers by Name, a Metric Prefix module, Traffic Marking calculation, and a water vapor permeability module.
Also in the latest version are two new menu items called Find and GoTo. Both of these menu items can be found in the main menu item titled Locate. The Find menu shows a list containing all of the units contained in ProKon that are located in the various unit conversion modules. The list of units is searchable to make it easy to locate a unit in the list. This list of units is useful if you're not sure which module a specific unit might be located in. Selecting a unit from the Find list will take you directly to the module containing that unit. The GoTo menu item shows a list of all of the modules contained in ProKon. The Goto list is also searchable and allows the user to go directly to any module in ProKon, including those modules normally accessed from the Miscellaneous I and Miscellaneous II screens.

[align=left]

***************************************
Content of this section is hidden, You must be registered and activate your account to see this content. See this link to read how you can remove this limitation:

http://forum.civilea.com/thread-27464.html
***************************************

***************************************
Content of this section is hidden, You must be registered and activate your account to see this content. See this link to read how you can remove this limitation:

http://forum.civilea.com/thread-27464.html
***************************************

***************************************
Content of this section is hidden, You must be registered and activate your account to see this content. See this link to read how you can remove this limitation:

http://forum.civilea.com/thread-27464.html
***************************************

***************************************
Content of this section is hidden, You must be registered and activate your account to see this content. See this link to read how you can remove this limitation:

http://forum.civilea.com/thread-27464.html
***************************************