VMware Workstation v9.0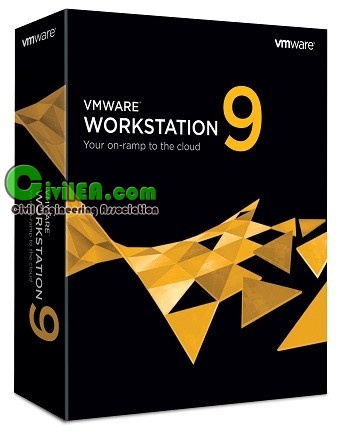 VMware Workstation 9 continues VMware's tradition of delivering the virtual hardware that technical professionals deserve and rely on every day. With support for Windows 8, restricted VMs, Open GL support for Linux and a new web interface to access virtual machines, it's the perfect tool for getting work done.
Best in Class Windows 8 Support
To help you and your organization evaluate Windows 8, master the Metro UI and test your applications, VMware Workstation 9 is optimized for running Windows 8 virtual machines and running on Windows 8 PCs. Easy Install simplifies the task of creating Windows 8 virtual machines, Unity mode will intelligently scale windows with Metro applications and multi-touch support will ensure you get the true Windows 8 experience in a virtual machine.
Access from Almost any Device
Workstation's new web interface allows you to access your virtual machines running in Workstation or vSphere on a tablet, smart phone, PC or any device with a modern browser. No plugins necessary. Now you can power on, off, or suspend your virtual machines and interact with them from almost anywhere.
Set It and Send It
Create virtual machines that are encrypted, block USB devices, require a runtime password, and another password to change virtual machine settings. Once set, send the virtual machine to anyone to run on their Mac, Windows, or Linux machines by using VMware Fusion Professional.
From PC to Datacenter and Back Again
In Workstation 8 we introduced the ability to upload a virtual machine from your PC to vSphere. Workstation 9 takes the next step and allows you to drag and drop a virtual machines form vSphere to your PC. It's the easiest way to move virtual machines between your PC and your internal cloud.
Better 3D Graphics
With faster 3D graphics and support for DirectX 9.0c Shader Model 3 and OpenGL 2.1 3D graphics in a Windows and now Linux virtual machine, VMware Workstation easily handles demanding 3D applications like AutoCAD, Solidworks, and many current games.

***************************************
Content of this section is hidden, You must be registered and activate your account to see this content. See this link to read how you can remove this limitation:

http://forum.civilea.com/thread-27464.html
***************************************
Direct Links:

***************************************
Content of this section is hidden, You must be registered and activate your account to see this content. See this link to read how you can remove this limitation:

http://forum.civilea.com/thread-27464.html
***************************************

***************************************
Content of this section is hidden, You must be registered and activate your account to see this content. See this link to read how you can remove this limitation:

http://forum.civilea.com/thread-27464.html
***************************************

***************************************
Content of this section is hidden, You must be registered and activate your account to see this content. See this link to read how you can remove this limitation:

http://forum.civilea.com/thread-27464.html
***************************************