Autodesk Motionbuilder (2013)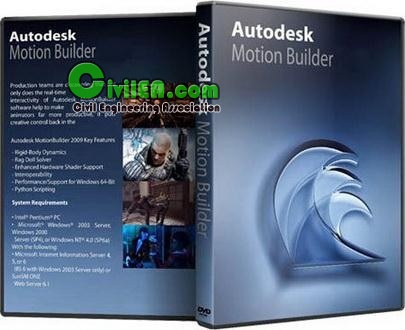 Increase your animation output per artist. Autodesk? MotionBuilder? real-time 3D character animation software can make film and game animation pipelines more efficient. MotionBuilder also enables you to create more and higher quality animation. You can create, edit, and play back complex character animation in a highly responsive, interactive environment that is ideal for high-volume animation, virtual cinematography, pre-visualization, and performance animation. Watch the MotionBuilder overview video
- Real-time engine?A real-time 3D engine makes it one of the industrya??s fastest animation tools.
- Productivity geared workflows?Workflow features enable you to take on demanding, high-volume projects:
o Full-body inverse kinematics character technology with animation retargeting
o Unified nondestructive, nonlinear editing environment
o Live device support
- Motion capture editing and data cleanup?A world-class toolset enables manipulation of motion capture data.
- Seamless interoperability?With its software development kit, support for Autodesk? FBX? technology, and Python? scripting capabilities, MotionBuilder interoperates with Autodesk? Maya?, Autodesk? 3ds Max?, and Autodesk? Softimage? software, and Autodesk? HumanIK? middleware.
MotionBuilder 2013 delivers robust new tools that help production teams more reliably acquire, aggregate,and refine data, and offers a new nonlinear editing paradigm for Virtual Production.With the option to record live motion capture data directly to disk, support for broadcast WAVE files,and the ability to output SDI (serial digital interface) video, MotionBuilder 2013 better supports a modern production pipeline.In addition, extended nonlinear editing tools, z-depth selection tools, and targeted performance enhancements accelerate everyday workflows. Also, with a flexible new HUD (heads-up display) and a floating viewer,animators and directors can benefit from views optimized for their individual requirements....

[align=left]

***************************************
Content of this section is hidden, You must be registered and activate your account to see this content. See this link to read how you can remove this limitation:

http://forum.civilea.com/thread-27464.html
***************************************

***************************************
Content of this section is hidden, You must be registered and activate your account to see this content. See this link to read how you can remove this limitation:

http://forum.civilea.com/thread-27464.html
***************************************