Minutes Matter Studio 3.2.3.0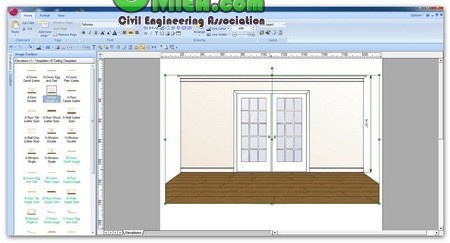 We make the interior design world a happier place by bringing clients, interior designs, workrooms, and installers together. Studio allows you to overcome communication barriers, save cost, reduce fabrication errors, promote your company, and basically impress everyone you're around.
Studio is a perfect tool to educate your clients, build trust and confidence in your abilities, and will leave them with an experience that is simply unforgettable.
Create jaw-dropping presentations and close the sale during the first meeting. Design on a photograph of your client's room.
Not only is Studio a great communication tool, it's your best marketing tool! Use this graphic software to design a logo, business cards, large posters, postcards, etc. You're only limited by your creativity.
Instead of guessing, you can actually design "to scale" to illustrate the effect it has on the entire room. What's even better is the built-in ruler, the Dimension Tool. Snap a measurement to check the finished width, length, short point, long point, distance between furniture, and so much more.
Drag and drop Studio images right onto your client's photograph. Even set the scale of a photograph a click of a button. Clients love seeing the instant transformation.
The rendering just isn't complete without the customers finishing touches. With Studio it's easy to create a one of a kind design by adding the client's preferred fabric, wallpaper, and hardware finishes. It's easy to acquire; simply scan, take a photo, or download the fabric from a vendors website.

[align=left]

***************************************
Content of this section is hidden, You must be registered and activate your account to see this content. See this link to read how you can remove this limitation:

http://forum.civilea.com/thread-27464.html
***************************************

***************************************
Content of this section is hidden, You must be registered and activate your account to see this content. See this link to read how you can remove this limitation:

http://forum.civilea.com/thread-27464.html
***************************************

***************************************
Content of this section is hidden, You must be registered and activate your account to see this content. See this link to read how you can remove this limitation:

http://forum.civilea.com/thread-27464.html
***************************************