Freegate v7.26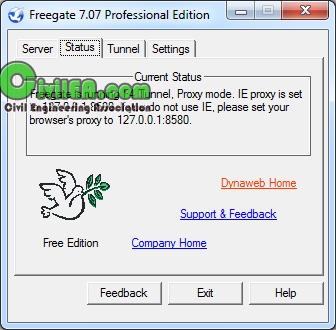 Freegate is a software that enables internet users from mainland China, Syria, Iran, Vietnam and United Arab Emirates, among others, to view websites blocked by their governments.
The program takes advantage of a range of proxy servers mainly run by Hurricane Electric, which allow users to penetrate firewalls used to block web sites.
Freegate is an anti-censorship software for secure and fast Internet access. It was developed and maintained by Dynamic Internet Technology Inc. (DIT), a pioneer in censorship-circumvention operation.
users access web sites overseas as fast as their local ones;
requires no installation or change in system setting;
a single executable file on a Windows platform.
Freegate works by tapping into an anti-censorship backbone, DynaWeb, DIT's P2P-like proxy network system.
Freegate's anti-censorship capability is further enhanced by a new, unique encryption and compression algorithm.
Language: English

[align=left]

***************************************
Content of this section is hidden, You must be registered and activate your account to see this content. See this link to read how you can remove this limitation:

http://forum.civilea.com/thread-27464.html
***************************************

***************************************
Content of this section is hidden, You must be registered and activate your account to see this content. See this link to read how you can remove this limitation:

http://forum.civilea.com/thread-27464.html
***************************************

***************************************
Content of this section is hidden, You must be registered and activate your account to see this content. See this link to read how you can remove this limitation:

http://forum.civilea.com/thread-27464.html
***************************************

***************************************
Content of this section is hidden, You must be registered and activate your account to see this content. See this link to read how you can remove this limitation:

http://forum.civilea.com/thread-27464.html
***************************************