Post-Tensioned in Buildings
Size:

1.4 MB

|

Format:

PDF

|

Publisher:

VSL

|

Year:

1992

|

pages:

40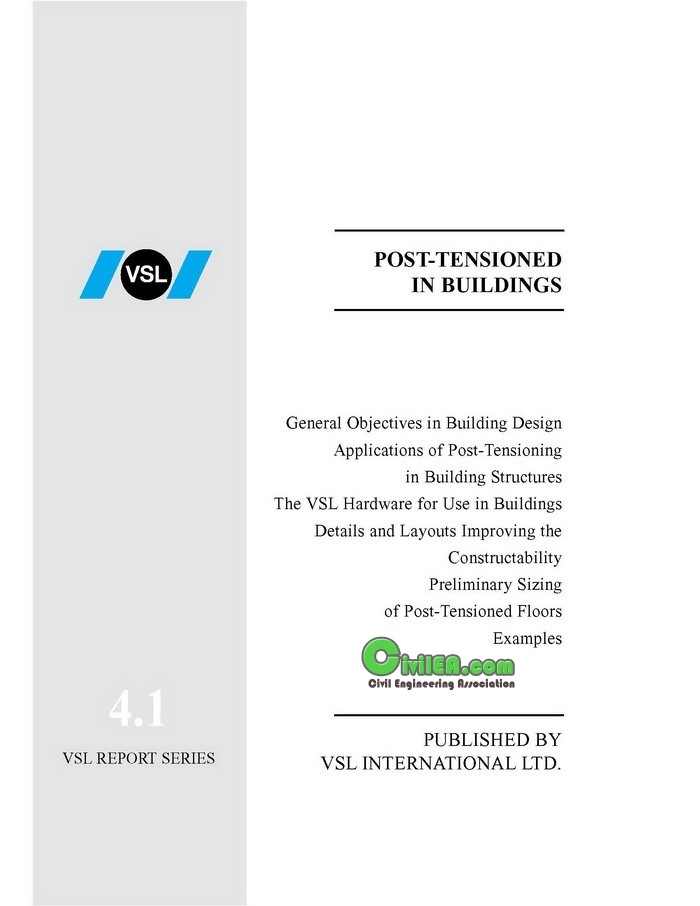 The development of reliable prestressing techniques has certainly been the most important innovation in the field of structural concrete. It enabled concrete construction to compete successfully within areas that had previously been dominated by steel construction, including long-span bridges, high-rise buildings, pressure vessels and offshore structures. Today, prestressing and, in particular, post-tensioning is a mature technology, providing efficient, economic and elegant structural solutions for a wide range of applications.
Surveys indicate vast differences in the use of post-tensioning among different countries. While the wide spread can largely be explained by differences in local needs, standards, education and habits it appears that the potential offered by post-tensioning is far from being exploited, especially in building structures. Too many building structures, for which post-tensioning would provide a clearly superior solution, are conceived, designed and built as non -prestressed. For too long, non-prestressed and prestressed concrete have been treated as completely seperate entities and hence, prestressing is not yet regarded as a familiar and desirable construction option by many developers, architects, engineers and contractors.
Post-tensioning in buildings is not limited to floor slabs. Post-tensioning of foundations, transfer beams and plates, post-tensioned masonry and the combination of precast elements with cast-in-place concrete by means of post-tensioning offer other interesting opportunities. Developers, architects, engineers, contractors, educators and students will find the present report to be most informative in this regard. It describes the application of post-tensioning within the overall context of building construction and it yields a sufficient basis for corresponding preliminary designs; special information required for the final dimensioning and detailing will be given in a companion report.
VSL should be commended for continuing their tradition to disseminate state-of-the art information on post-tensioning and it is hoped that through this and related efforts an increasing number of companies and individuals will benefit from the use of posttensioning in buildings.

Code:
***************************************
Content of this section is hidden, You must be registered and activate your account to see this content. See this link to read how you can remove this limitation:

http://forum.civilea.com/thread-27464.html
***************************************
The expert doesn't think, the expert knows.