SCI P287: Design of Composite Beams using Precast Concrete Slabs
Author:

S J Hicks, R M Lawson

|

Size:

1.86 MB

|

Format:

PDF

|

Publisher:

SCI

|

Year:

2003

|

pages:

101

|

ISBN:

1859421393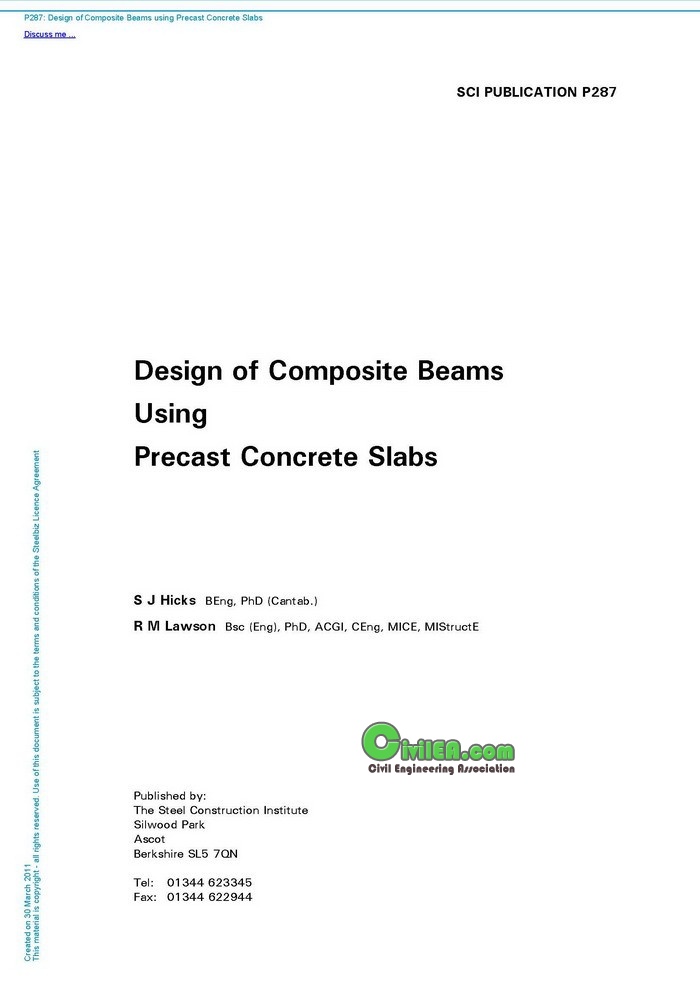 This publication provides guidance on the design of steel beams acting compositely with precast concrete slabs in multi-storey buildings. The use of hollow core or solid plank precast units offer benefits in terms of cost (the long spanning capabilities of the precast slabs lead to fewer secondary beams) as well as the advantages offered by composite construction. The design basis is generally in accordance with BS 5950-3, supplemented by recommendations from Eurocode 4 and data from tests. Particular issues affecting the use of precast concrete concern the requirements of effective shear connection and transverse reinforcement. Small-scale push-out tests, and earlier composite beam tests, have established reduction factors for the design resistance of welded shear connectors as a function of the gap between the ends of the precast concrete units, and the amount of transverse reinforcement provided.
The guidance also emphasises the importance of the design of the steel beam in the non-composite construction stage, where out-of-balance loads can occur during installation of the precast concrete units. The guidance applies to hollow core units of 150 to 260 mm depth, and to solid precast planks. A step-by-step design procedure is given for composite beams using various forms of precast concrete units, with or without a concrete topping. This is supplemented by a fully worked design example for a composite beam in a 15.8 m × 7.2 m grid, and a series of design tables for concept design.

***************************************
Content of this section is hidden, You must be registered and activate your account to see this content. See this link to read how you can remove this limitation:

http://forum.civilea.com/thread-27464.html
***************************************
The expert doesn't think, the expert knows.