Noise wall design guideline Design guidelines to improve the appearance of noise walls in NSW
Author:

Adrian Pilton, Gareth Collins, Raeburn Chapman, Neil Gross

|

Size:

2.96 MB

|

Format:

PDF

|

Publisher:

RTA Road Network Infrastructure Directorate

|

Year:

2007

|

pages:

64

|

ISBN:

9781877070037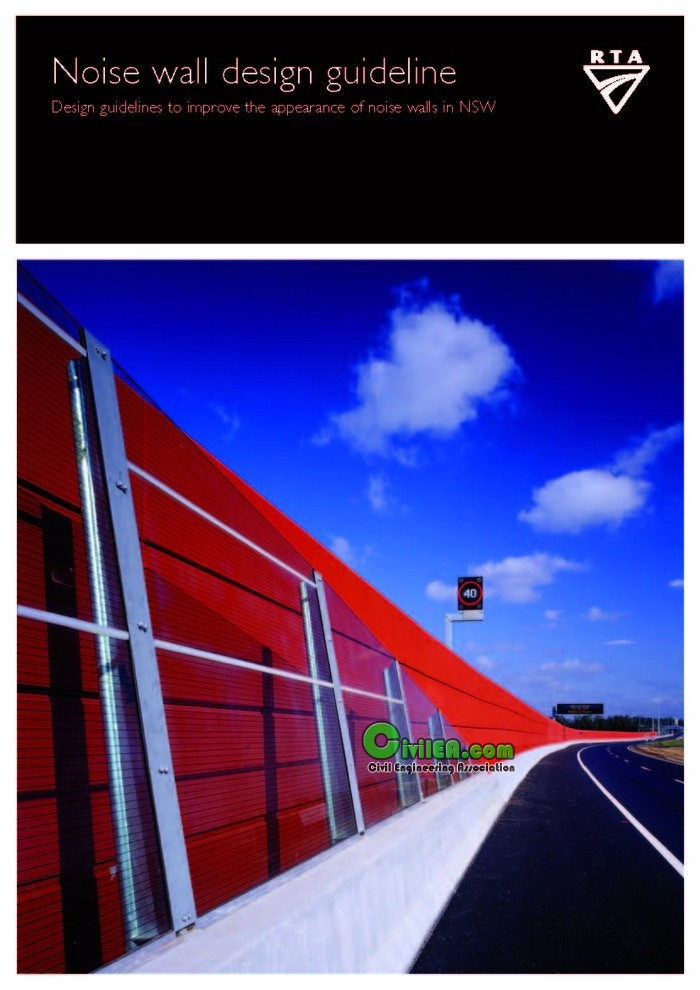 This guideline was developed from an RTA research and development project to investigate noise wall design in NSW, Australia and overseas. It is not the intention of this document to encourage or deter the use of noise walls. Its primary purpose is to improve the urban design of noise walls by highlighting the main design problems, providing examples of good noise wall outcomes and setting down guidelines to achieve similar outcomes. Photographs have been included. Some are examples of good noise wall design and some are examples of poor design. Many simply illustrate a point or design principle and should not be seen as a criticism of the noise wall and the efforts of the teams that were responsible. For quick reference a summary of the Design guidelines is included at the beginning of Section 5, page 33. It is recommended that this summary is read with reference to the rest of the document. The photographs selected are not representative of the full range of design possibilities. Each site has its own constraints and each design team its own talents. The range of possible outcomes is broad. The key message of this document is that the right process must be adopted, and the appearance of the wall and its relationship to its context must be adequately considered. This document complements the RTA Environmental Noise Management Manual.

Code:
***************************************
Content of this section is hidden, You must be registered and activate your account to see this content. See this link to read how you can remove this limitation:

http://forum.civilea.com/thread-27464.html
***************************************
The expert doesn't think, the expert knows.