Highway Concrete Pavement Technology Development and Testing
Author:

Paul Krauss, Jagannath Mallela, Brian Aho—

|

Size:

2.62 MB

|

Format:

PDF

|

Publisher:

FHWA

|

Year:

2006

|

pages:

188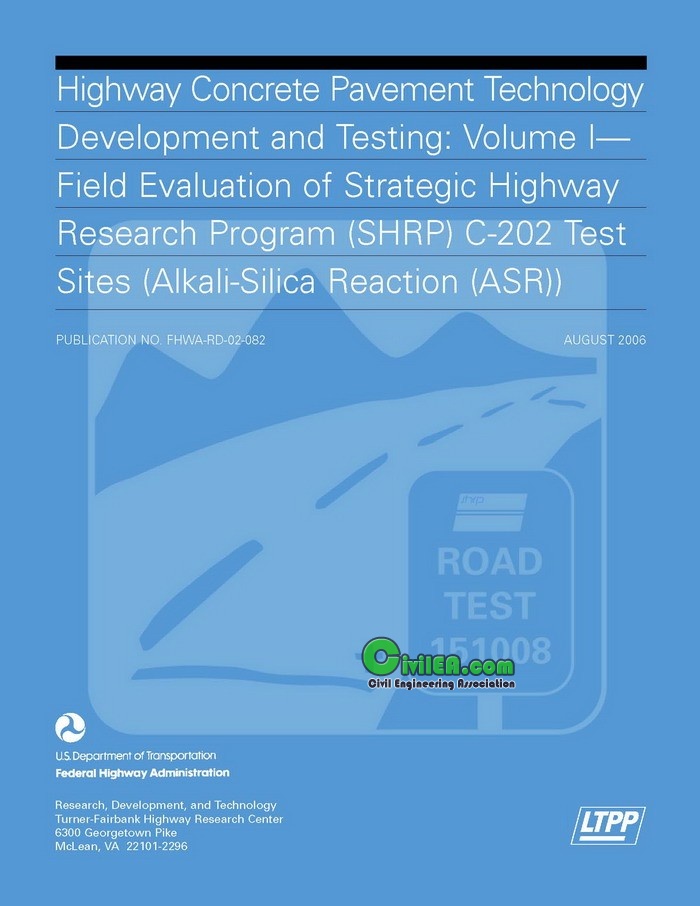 This study consists of continued field evaluations of treatments to four pavements suffering from distress due to alkali-silica reaction (ASR). One set of treatments was evaluated on existing pavements in Delaware, California, and Nevada that already showed ASR-related distress. Two of the existing pavements were located in relatively dry environments, while the third (in Delaware) was located in a moderately wet environment. The fourth site, in New Mexico, consisted of treatments on newly constructed pavements built with known reactive aggregates. At the Nevada site, the pavement was treated with methacrylate (HMM), silane, linseed oil, or lithium hydroxide. The Delaware site used only lithium hydroxide, while the California site used only methacrylate. The test sections in New Mexico consisted of pavement that contained admixtures as ASR inhibitors. There were two rates of addition of lithium hydroxide, a 25 percent replacement of cement with combinations of Class C and F fly ashes, and a high-range water reducer (HRWR). This evaluation showed that, unfortunately, none of the treatments were significantly beneficial to pavements with moderate to advanced ASR damage. The methacrylate sealer was effective when applied to a bridge deck and extended the pavement service life 3 to 5 years or more when applied in two to three coats. The results indicate that, regardless of the treatment, upward moisture migration from the subgrade to the bottom of the pavement is sufficient to support continued ASR even in dry desert climates. Preliminary results from the New Mexico test sites show that Class F ash, LOMAR (HRWA), or blended Class C and Class F ash may improve resistance to ASR distress. However, Class C ash can make deterioration much worse. Careful selection of the fly ash is necessary when attempting to mitigate known reactive aggregate. Continued monitoring of this test site is recommended.

***************************************
Content of this section is hidden, You must be registered and activate your account to see this content. See this link to read how you can remove this limitation:

http://forum.civilea.com/thread-27464.html
***************************************
---
Author:

Donald J. Janssen

|

Size:

1.97 MB

|

Format:

PDF

|

Publisher:

FHWA

|

Year:

2006

|

pages:

50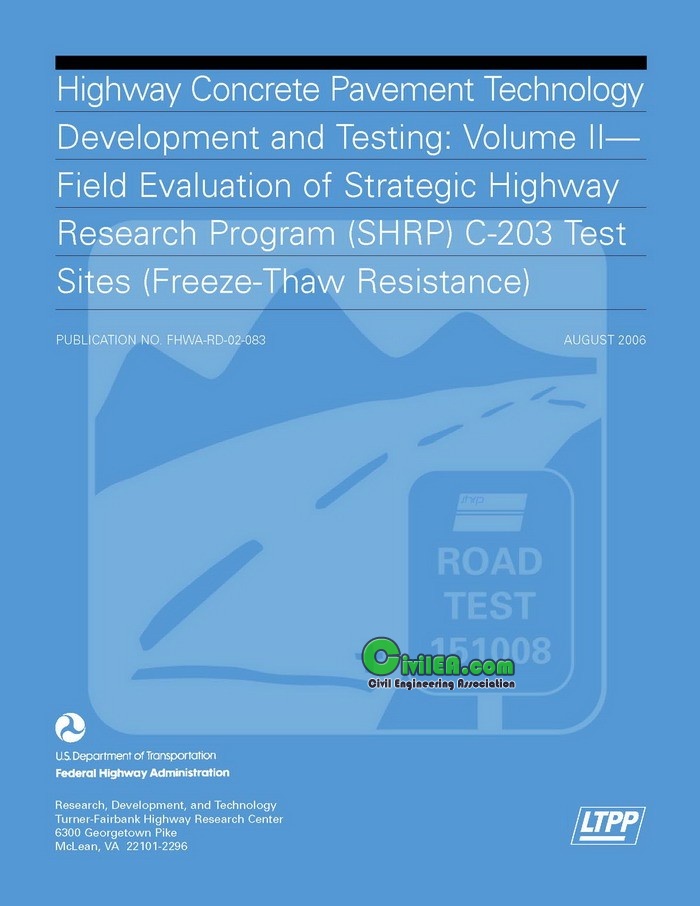 Field test sections were constructed during 1992 as part of the Strategic Highway Research Program (SHRP) investigation of the frost resistance of concrete. The first freeze-thaw-related deterioration expected for pavement concrete exposed to de-icing salt would be salt scaling. Unfortunately, the test sections constructed in Ohio were diamond-ground between construction and the first visit of the monitoring team. The diamond-ground surface did not deteriorate over time. Internal deterioration of the Ohio test sections was either not detected or was believed to be caused by a mechanism other than freeze-thaw. Freeze-thaw deterioration was not noticed, either, in the Minnesota test sections (not exposed to deicing salts), though freeze-thaw tests conducted on specimens cut from the test sections 6 years after construction showed significantly different performance than specimens prepared and tested at the time of test section construction. For both the Ohio and Minnesota test sections, only 6 years of winter exposure would not be adequate to evaluate potential long-term performance thoroughly. Though the Ohio sections have been overlaid, making further monitoring impossible, the Minnesota sections are still exposed. Additional monitoring of these sections is recommended, along with providing salt exposure to the sections to determine their resistance to salt scaling. The D-cracking mitigation study indicated that in many cases the D-cracking returned after 6 years, independent of the mitigation technique tried. Additional testing would be required to make further evaluations.

***************************************
Content of this section is hidden, You must be registered and activate your account to see this content. See this link to read how you can remove this limitation:

http://forum.civilea.com/thread-27464.html
***************************************
The expert doesn't think, the expert knows.