Full Depth Precast Concrete Highway Bridge Decks
Author:

M. G. Oliva, L.C. Bank, J.S. Russell

|

Size:

7.45 MB

|

Format:

PDF

|

Publisher:

WisDOT

|

Year:

2007

|

pages:

138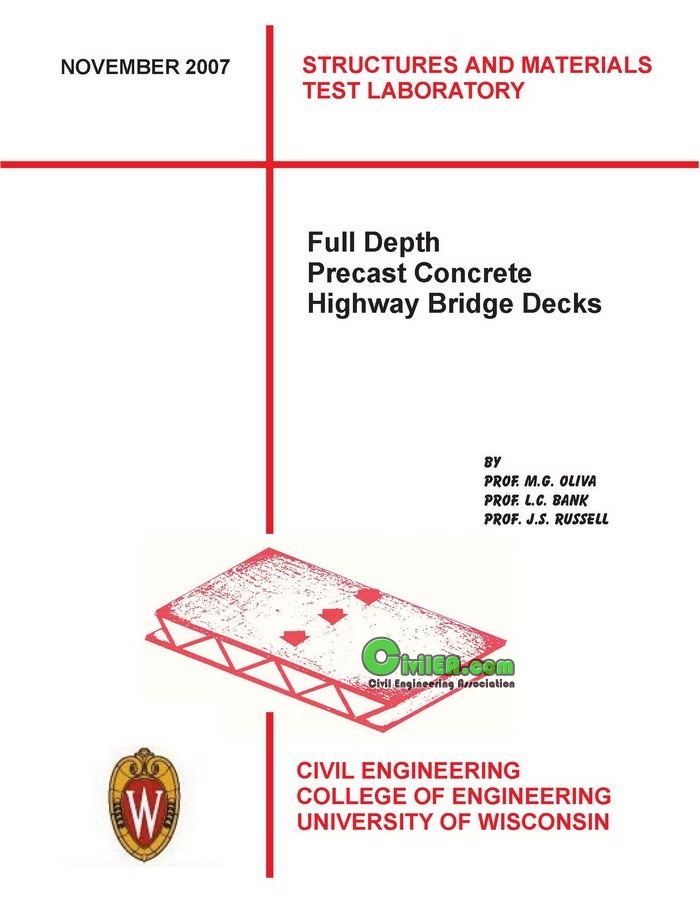 IBRC 3 was a multi-stage project completed over a four year span. The three phases of the process are outlined below.
Phase 1: Complete background research and preliminary engineering required to develop a proposed precast deck system and design procedure for the full depth, precast, prestressed concrete deck panels. Develop laboratory tests based on the proposed system and carry out all testing.
Phase 2: Implement the full depth precast, prestressed concrete deck panel system on the Door Creek Bridge. Perform a constructability study and compare the construction of the innovative and conventional bridge deck systems. Evaluate structural performance. Determine minimum needed prestress levels across joints for future projects.
Phase 3: Monitor both conventional and innovative bridge decks. Use non-destructive load tests and inspect for cracking to determine feasibility of using prefabricated, prestressed concrete deck panels in the future. Run analytical studies of loaded bridge.

Code:
***************************************
Content of this section is hidden, You must be registered and activate your account to see this content. See this link to read how you can remove this limitation:

http://forum.civilea.com/thread-27464.html
***************************************
The expert doesn't think, the expert knows.