11-30-2010, 01:44 AM (This post was last modified: 04-07-2013, 06:32 PM by mybest. Edit Reason: )
Pipe Rack Structural Steel Design Calculation
- Foundation Design
[not included]
- Analysis Files Not Available
[not included]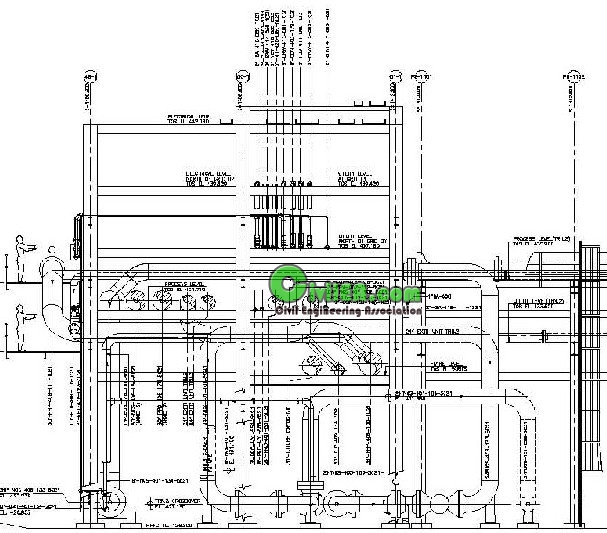 Pipe Rack Structural Steel Design
***************************************
Content of this section is hidden, You must be registered and activate your account to see this content. See this link to read how you can remove this limitation:

http://forum.civilea.com/thread-27464.html
***************************************
DESIGN DATA

Standards, Design and References
[1] STRUCTURAL DESIGN CRITERIA, DOCUMENT
[2] INTERNATIONAL CONFERENCE OF BUILDING OFFICIALS (ICBO), "UNIFORM BUILDING CODE" (UBC)–1997
[2-A] AMERICAN SOCIETY OF CIVIL ENGINEERS (ASCE), ASCE 7-88 "MINIMUM DESIGN LOADS FOR BUILDINGS AND OTHER STRUCTURES" (FORMERLY ANSI A58.1)
[2-B] AMERICAN INSTITUTE OF STEEL CONSTRUCTION (AISC), "SPECIFICATION FOR DESIGN, FABRICATION AND ERECTION OF STEEL STRUCTURES, 1989 (9TH EDITION), ALLOWABLE STRESS DESIGN"
[3] WIND LOAD AND ANCHOR BOLT DESIGN FOR PETROCHEMICAL FACILITIES, AMERICAN SOCIETY OF CIVIL ENGINEERS (ASCE) PUBLICATION, ISBN 0-7844-0262-0
[4] GUIDELINES FOR SEISMIC EVALUATION AND DESIGN OF PETROCHEMICAL FACILITIES, AMERICAN SOCIETY OF CIVIL ENGINEERS (ASCE) 1997
Design Method
THE ALLOWABLE STRESS DESIGN (ASD) METHOD IS USED FOR THE DESIGN OF STEEL STRUCTURES AS PER [2-B] AND RELATED MANUAL OF STEEL CONSTRUCTION.
Vertical and Lateral Deflection Limitations
• ALLOWABLE VERTICAL DEFLECTION:
Δ(DEAD+LIVE) = L / 300
ΔLIVE = L / 300
• ALLOWABLE LATERAL DEFLECTION DUE TO WIND
ΔWIND = HEIGHT / 240
Site and Environmental Data
Description
LOCATION:
25 KM FROM LAMERD CITY AT FARS PROVINCE IN SOUTH OF IRAN
ELEVATION:
411 METERS ABOVE THE SEA LEVEL
AMBIENT TEMPERATURE:
MAX SHADE +49 °C MAX SUN +88 °C MIN ABSOLUTE -1°C
RELATIVE HUMIDITY:
MAX 92% AT 22 °C MIN 46% AT 47 °C
WIND:
WIND SPEED 100 mph (162 km/hr)
EXPOSURE C
CATEGORY III
Iw = 1.15
PREVAILING WIND DIRECTION IS N.W. TO S.E.
SEISMIC:
ZONE 4
Z = 0.4
Na = 1.0
Nv = 1.0
CATEGORY III
I = 1.25
Ip = 1.50
RY = 5.6, RX = 4.5 AS APPLICABLE
Ωo= 2.8
SOIL PROFILE
AS PER Geotechnical Report
"Zone A" SOIL PROFILE CLASS Sd
"Zone B" SOIL PROFILE CLASS Sd
"Zone C" SOIL PROFILE CLASS Sc or Sd, USE Sd
SNOW
0 kPa
FROST PENETRATION 1 m , as per REPORT
RAIN MAX CUM. ANNUAL = 0.392 m
MAX ONE DAY = 0.067 m
FOUNDATION DATUM
U/S COLUMN VARIES. REFER TO FOUNDATION LAYOUT PLAN.
SOIL ALLOWABLE BEARING PRESSURE FOR 3 m WIDE FOOTING, REFER TO REPORT.
FOR ZONE B = 100 kPa
Framing System
• PIPE RACKS SUPPORT FOUR LEVELS OF PIPING, PLATFORMS AND CABLE TRAYS.
• ORDINARY MOMENT RESISTING FRAMES WITH FIXED-BASE IN TRANSVERSE DIRECTION. FRAMES CONSIST OF TWO 6 m SPAN.
• COMBINATION OF ORDINARY MOMENT RESISTING FRAMES AND PARTIALLY BRACED FRAMES TO RESIST HIGH TRANSVERSE LOAD FROM PIPING GUIDES.
• ORDINARY BRACED FRAME IN LONGITUDINAL DIRECTION WITH "X" OR "k" BRACES. THESE BRACED FRAMES WILL BE RESISTING ALL LONGITUDINAL SEISMIC AND THERMAL LOADS.
• TO MITIGATE AMBIENT TEMPERATURE VARIATIONS EXPANSION JOINTS ARE PROVIDED EVERY ± 60 m.
• ALL THE CONNECTIONS ARE BOLTED.
• ADDITIONAL HORIZONTAL BRACINGS ARE PROVIDED AS REQUIRED AT PIPE ANCHOR LOCATIONS.
• THE BASE PLATE ELEVATION DIFFERS ALONG THE PIPE RACKS. ALL MODELS ARE BASED
ON LOWEST GROUND ELEVATION AT HPFG EL. OF +426.000 OR U/S COLUMN EL. OF +426.250 m.
• THE FLARE LINE ELEVATION SLOPES 0.2% FROM SOUTH TO NORTH.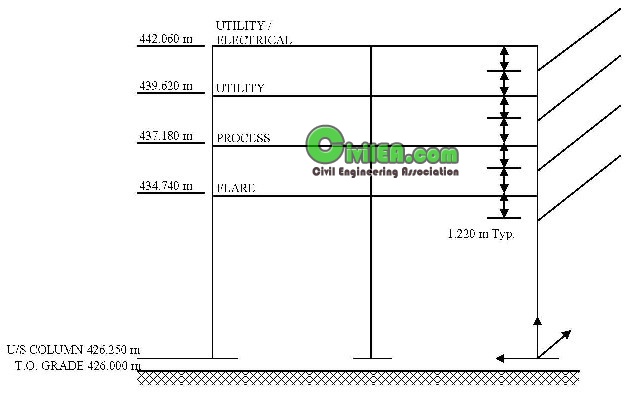 Structural Materials
• MILD STEEL (E = 205000 MPa) GRADE ST 37 IN ACCORDANCE WITH DIN 1025, 1050 AND 17100 SPECIFICATIONS WITH A MINIMUM YIELD STRESS OF FY = 2400 kg/cm2 = 235.4 MPa (34 ksi) OR APPROVED EQUIVALENT.
• ENGINEERING DRAWINGS SHOW EURO NORM SECTIONS.
• HEXAGONAL BOLTS SHALL BE IN ACCORDANCE WITH ASTM A-325 AND NUTS SHALL BE IN ACCORDANCE WITH ASTM A-563 SPECIFICATIONS OR APPROVED EQUIVALENT FOR HIGH STRENGTH STRUCTURAL STEEL BOLTED CONNECTIONS.
• WASHERS SHALL BE IN ACCORDANCE WITH ASTM F436-93 SPECIFICATIONS OR APPROVED EQUIVALENT.
• WELDING ELECTRODES FOR MANUAL SHIELDED METAL-ARC WELDING SHALL CONFORM TO THE "SPECIFICATIONS FOR MILD STEEL COVERED ARC-WELDING ELECTRODES", AMERICAN WELDING SOCIETY, AWS A5.1, OR APPROVED EQUIVALENT.
• BARE ELECTRODES AND GRANULAR FLUX USED IN THE SUBMERGED-ARC PROCESS SHALL CONFORM TO F60 AND/OR F70 AND TO "SPECIFICATION FOR BARE MILD STEEL ELECTRODES AND FLUXES FOR SUBMERGED ARC-WELDING, AMERICAN WELDING SOCIETY, AWS A5.17".
Software
• FOR MODELING AND ANALYSIS OF STRUCTURES, CSC SOFTEK LTD. "S-FRAME" IS USED.
• FOR DESIGN OF STEEL MEMBERS, CSC SOFTEK LTD. "S-STEEL" IS USED.
• FOR ENGINEERING CALCULATION CSC SOFTEK LTD. "TEDDS" IS USED.
***************************************
Content of this section is hidden, You must be registered and activate your account to see this content. See this link to read how you can remove this limitation:

http://forum.civilea.com/thread-27464.html
***************************************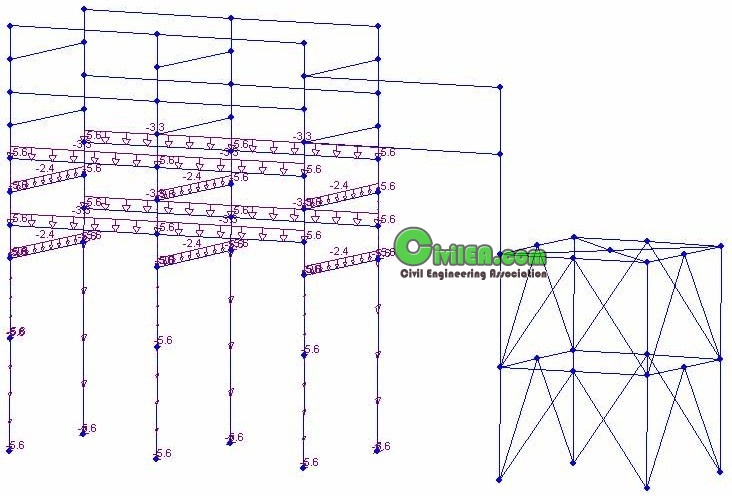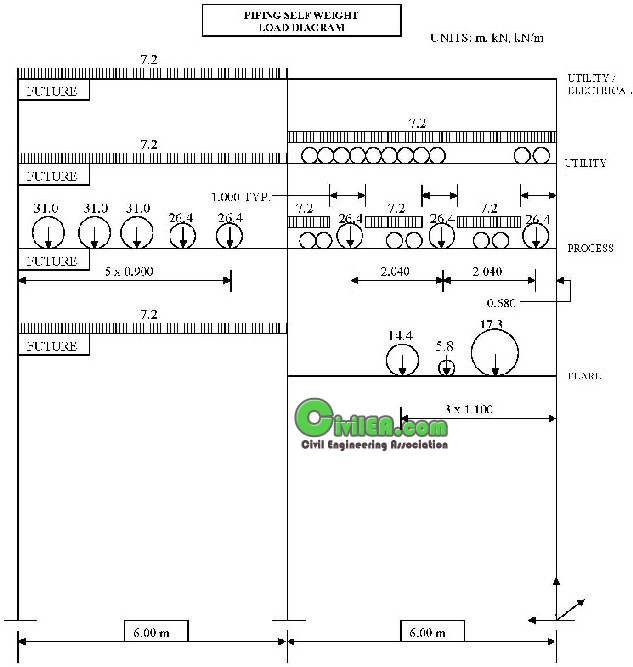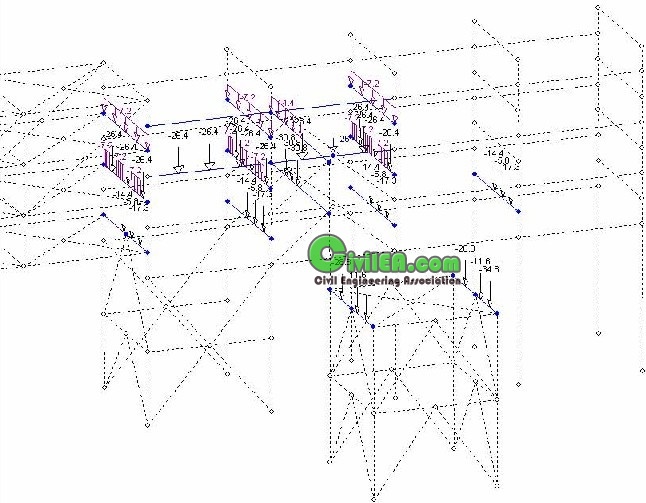 Piping Contents
FOR PIPES SMALLER THAN 12.75" (324 mm) IN DIAMETER USE UNIFORM LOAD AS:
ON BEAM, UNIFORM LOAD = 1.20 kPa × 6 m (FRAME SPACING) = 7.2 kN/m
FOR PIPES LARGER THAN 12.75" (324 mm) IN DIAMETER USE POINT LOADS.
NATURAL GAS WEIGHT IS CONSIDERED INSIGNIFICANT.
Cable Trays
SINGLE CABLE TRAY LOAD = 150 kg/m = 1.47 kN/m
CABLE TRAY WIDTH = 0.900 m
THERE ARE 2 LEVELS OF TRAYS.
FRAME SPACING = 6.00 m
SINGLE LAYER CABLE TRAY UNIFORM LOAD (WHERE APPLICABLE)
= 1.47 kN/m / 0.900 m × 6.00 m = 9.80 kN/m => TAKE 10.00 kN/m
DOUBLE LAYER CABLE TRAY UNIFORM LOAD = 20.00 kN/m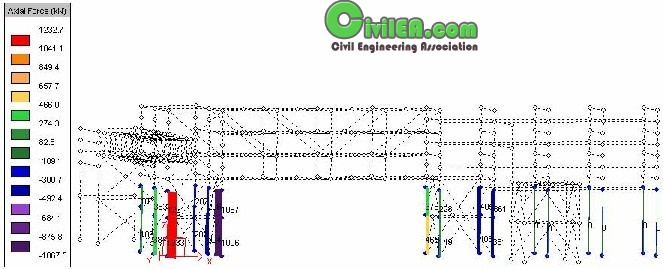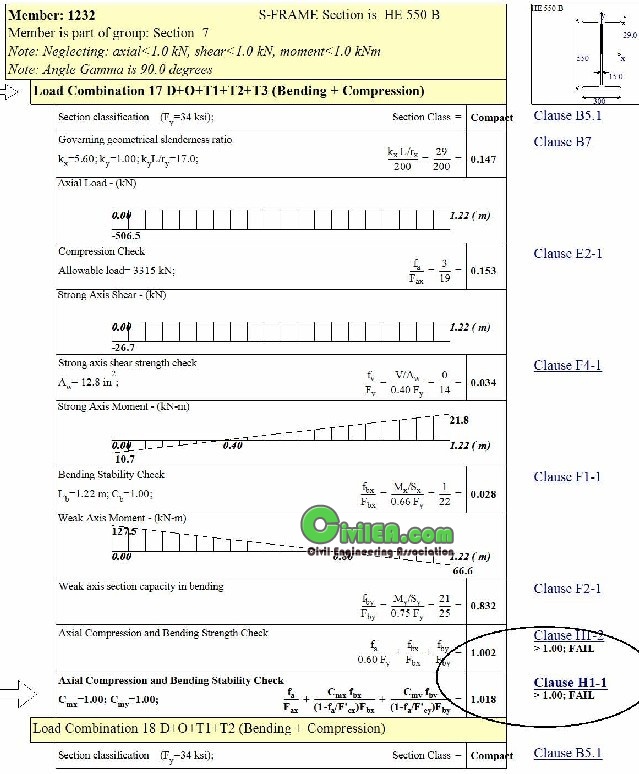 Size:

12.8 MB

|

Format:

PDF
***************************************
Content of this section is hidden, You must be registered and activate your account to see this content. See this link to read how you can remove this limitation:

http://forum.civilea.com/thread-27464.html
***************************************
stone age was not finished due to lack of stones. . . . . .

tEChNOlOGY

Changed