ARE YOUR PROPERLY SPECIFYING MATERIALS?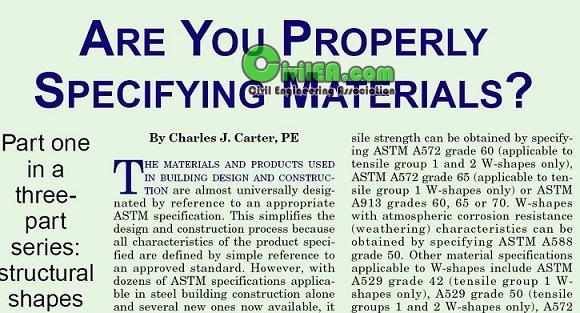 by Charles Carter - MODERN STEEL CONSTRUCTION ARTICLES
The materials and products used in building design and construction are almost universally designated by reference to an appropriate ASTM specification. This simplifies the design and construction process because all characteristics of the product specified are defined by simple reference to an approved standard. However, with dozens of ASTM specifications applicable in steel building construction alone and several new ones now available, it can be challenging to keep the standard designations in contract documents current.

This article (Part One) is a summary of the common ASTM specifications used for structural members in building design and construction. Parts Two and Three will focus on plate and fastening products, respectively.

Code:
***************************************
Content of this section is hidden, You must be registered and activate your account to see this content. See this link to read how you can remove this limitation:

http://forum.civilea.com/thread-27464.html
***************************************