08-10-2010, 07:05 AM (This post was last modified: 04-08-2012, 07:17 AM by Dell_Brett.)
Buckling of Thin Metal Shells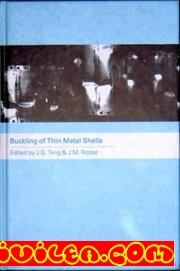 Editor: J.M. Rotter , J.G. Teng
Hardcover: 658 pages
Publisher: Spon Press; 1st edition (December 1, 2001)
Language: English
ISBN-10: 0419241906
ISBN-13: 978-0419241904
Book Description
Due to the inherent properties of thin shelled metal structures, buckling is the main cause of failure and is therefore a topic of great concern and interest. This book is the assimilation of a wealth of recent research, experience and knowledge on the subject.
Previously scattered information is made available in a concise, convenient and easy-to-understand form and state of the art research findings are thoroughly examined. This book is relevant to those involved with such structures as: aircraft, missiles, submarines, silos, tanks, pipelines, chimneys and offshore platforms.
About the Author
J. G. Teng, Professor, Department of Civil and Structural Engineering, Hong Kong Polytechnic University.
J. M. Rotter, Professor, Department of Civl Engineering, Unversity of Reading.

***************************************
Content of this section is hidden, You must be registered and activate your account to see this content. See this link to read how you can remove this limitation:

http://forum.civilea.com/thread-27464.html
***************************************