Client for Google Translate v4.5.385+Inc Keygen

Google Translate is the most widely used free translation service. But translating a webpage or a piece of text can still be a tiresome process: you need to visit Google Translator website, copy/paste the text, choosing the language... Too long!
Client for Google Translate is a free translator which translate text in every Windows application such as Outlook, MS Word, Internet Explorer, Firefox and so on.
After installing you will see Client for Google Translate in the system tray and every time you want to translate some text, all you have to do is select it - the text will be translated instantly!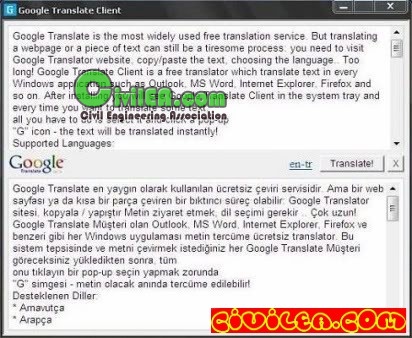 ***************************************
Content of this section is hidden, You must be registered and activate your account to see this content. See this link to read how you can remove this limitation:

http://forum.civilea.com/thread-27464.html
***************************************
We create our Tomorrows by what we dream Today...