WinRAR is a powerful archive manager. It can backup your data and reduce size of email attachments, decompress RAR, ZIP and other files downloaded from Internet and create new archives in RAR and ZIP file format. WinRAR puts you ahead of the crowd when it comes to compression. By consistently creating smaller archives, WinRAR is often faster than the competition. This will save you disc space, transmission costs AND valuable working time as well. It supports all popularcompression formats (RAR, ZIP, CAB, ARJ, LZH, ACE, TAR, GZip, UUE, ISO, BZIP2, Z and 7-Zip).
WinRAR is also ideal, if you are sending data through the web. Its 128 bit password encryption and its authenticated signature technology will give you the peace of mind you have been looking for.
Features in 3.91:
• Introduce an original compression algorithm
• Offer an optional compression algorithm highly optimized for multimedia data
• Support files and archives up to 9,223,372,036,854,775,807 bytes in size, about 9000PB
• Complete support for RAR and ZIP 2.0 archives
• Support to unpack CAB, ARJ, LZH, TAR, GZ, ACE, UUE, BZ2, JAR, ISO, Z, 7Z archives
• Support NTFS file security and data streams
• Offer both a classic interactive Windows interface and the command line interface
• Functionality for creating a 'solid' archive
• Ability to create and change SFX archives using default and external SFX modules
• Ability to create a multi-volume archive as SFX
• Offer a number of service functions, such as setting a password, adding archive and file comments etc.
Latest changes in WinRAR 3.91
1. This version can decompress 7-Zip archives created with LZMA2 algorithm.
2. Now a password is requested only once when unpacking 7z archives with encrypted file names from context menu. WinRAR 3.90 asked it twice.
3. This version can unpack tar.bz2 archives consisting of several smaller bz2 streams merged together. Previous versions unpacked only the first nested bz2 stream in such composite archive.
4. WinRAR displays CRC32 of files inside of usual .gz (not .tar.gz) rchives. Previous versions left this field blank for GZIP files.
5. Bugs fixed:
a) WinRAR 3.90 displayed "Save" button instead of "Open" or "OK" in "Find archive" dialog ("Open archive" command in "File" menu and "Browse..." command in archiving dialog);
b) WinRAR could display incorrect file names when browsing malformed ZIP archives;
c) WinRAR 3.90 failed to decompress LZH archives created with "-lh7-" algorithm;
d) WinRAR 3.90 could fail to delete a part of files after archiving if delete to Recycle Bin was enabled. This bug was present when working in Windows XP, but not in Windows Vista and Windows 7;
e) when unpacking ISO file using WinRAR "Extract files..." command in Explorer context menu, WinRAR could unpack same archived files twice during the same operation. It displayed the overwrite prompt when unpacking files for the second time;f) hexadecimal search in WinRAR 3.90 "Find" command and console RAR "ih" command failed to find matches if first byte in search string was greater than 127.
WinRAR 3.91 (Portable) | Size : 6 MB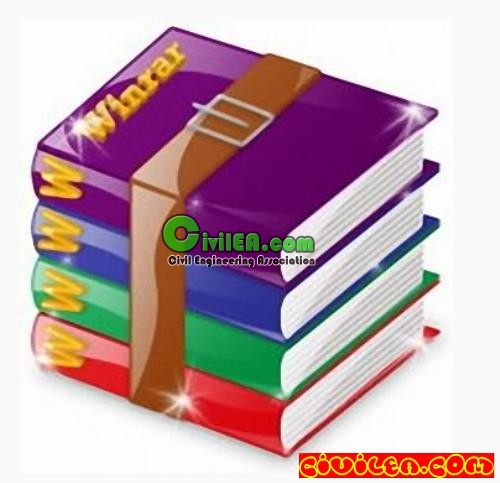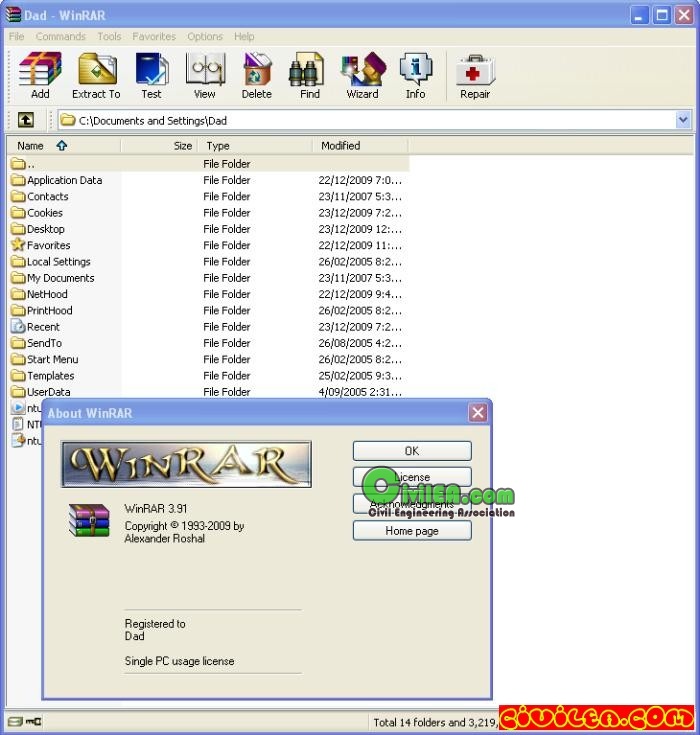 ***************************************
Content of this section is hidden, You must be registered and activate your account to see this content. See this link to read how you can remove this limitation:

http://forum.civilea.com/thread-27464.html
***************************************